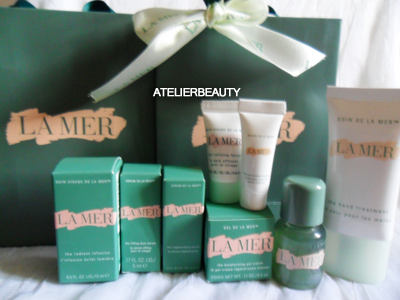 Late last month I'd attended a workshop organized by LA MER - it was an extremely informative 2-hour session that focuses not just on the main topic of caring for your eyes but also a hands-on experience using their products as a full regime. I definitely got more than what I had paid for; an exciting new technique to reduce my dark circles and in-depth understanding of their products.

This post is an introduction of products that I currently own albeit in sample sizes. If you have been to their counters, you would have been told to be placed on the waiting list to obtain product samples if unavailable. This is because the Miracle Broth is based on bio-fermented marine algae, a process that uses natural ingredients that lasts 3-4 months. Retail-sized products are also available in limited quantities thus don't be surprised if you have to wait up to 2-3 months* to get the coveted creme in your hands. (*According to my friend)

These sought-after LA MER workshops aren't held very often. I had a brief chat with the Training Manager Cecilia Tay who was pleasantly surprised at the amount of new faces shown up that morning. With limited seats offered at a first-come-first-served basis, all slots were filled up mostly by their loyal base of customers. Cecilia jokingly remarked that she was excited to relate the formulation of the Miracle Broth because her audience that day were relatively new to the brand.

Besides gaining extra skin care knowledge, each participant were presented a doorgift consisting of 2 deluxe-sized products.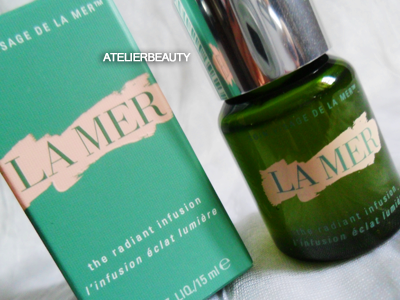 LA MER The Radiant Infusion
This pore-minimizing product contains ionizing sea salts that energize the complexion. With regular use, it restores clarity by brightening up dull skin. It is meant to be used before your serum, so as to receive the beneficial ingredients from your forthcoming products. I had experienced some flakiness while applying it on at the workshop, thus I recommend putting on a hydrating base prior.


LA MER The Lifting Face Serum
Similar to the Radiant Infusion, this serum also restores clarity and brightness to the skin but is further enhanced with the inclusion of the exclusive Blue Algae Life Ferment. The gel-like consistency helps to strengthen and improve skin elasticity for a smoother, more radiant complexion.

Last week I received a letter from Cecilia who had read my write-up and prepared a token of appreciation for my effort. It was an incredibly kind gesture but I was more excited that my article was well-received. Upon collection at the Takashimaya counter, the staff got all hyped up when I introduced myself. Hearing that their customers enjoyed reading my blog - that feeling was priceless.

Being a Harry Potter nerd, my intention was to have my post magically transformed into Dumbledore's Pensieve, whereby you would be transported to the event venue and learn all the beneficial information as I did.

Anyway, I like the ribbon that symbolizes warmth and thankfulness, because sometimes when people give you something, they just chuck it in a bag. It may look insignificant, but such small details make me mushy.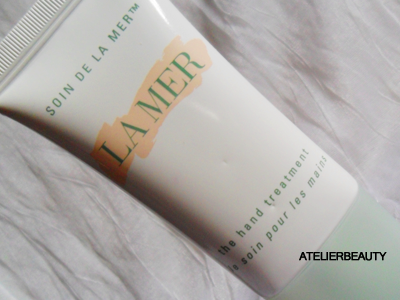 LA MER The Hand Treatment
To be frank, I'd initially underestimated this hand cream, thinking it's like any ordinary product available in the mass market, formulated with some fancy ingredient. Boy was I wrong! It's immensely emollient and the exclusive Skin Brightening Complex improves skin tone and clarity.

I have only squeezed out a dollop to try on the back of my hand and this clarity, albeit subtle, is something my other hand creams can't do! Unfortunately my nose is blocked at the moment thus can't comment on the scent.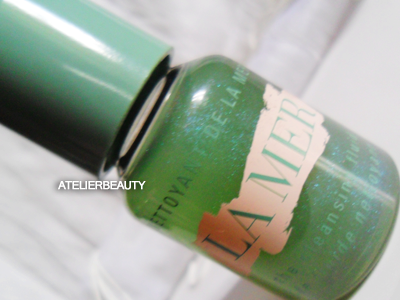 LA MER The Cleansing Fluid
At the workshop where we had to remove our makeup, this product was recommended particularly for those wearing waterproof mascara. I had the Elizabeth Arden Ceramide Mascara on that day which takes quite an effort to remove sometimes but the Cleansing Fluid had the capability to remove the stubborn formula.

Moisten 2 cotton pads before pouring in 2 pumps of the solution, and then placed on closed eyes. Make use of your palms to allow the Fluid to dissolve the mascara before gently wiping it off. As an extra precaution, dab a cotton swap onto the Fluid-soaked pads to remove any missed product on your lashes.

Apart from being the bane of stubborn makeup, this product deeply cleanses your pores and dissolves sebum. Made up of precious marine oils with highly restorative pearl powders and sea algae essences, the formula helps to nourish and condition the skin without stripping its natural moisture.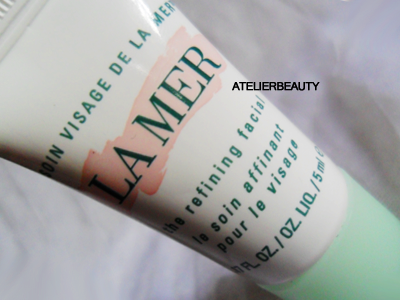 LA MER The Refining Facial
This refiner contains almost 2 carats of pure diamond powder and polished sea quartz that exfoliates the skin. It doesn't feel too harsh nor too soft; just adequate to scrub off impurities yet gentle at the same time. Smart minerals present in the product is able to use sure of the massaging action by converting it into energy to stimulate blood circulation.

As a treatment mask or as an instanteous boost - simply squeeze out a generous amount and slather on the skin evenly for a good 10 minutes leave-on before massage-wash for a more radiant complexion.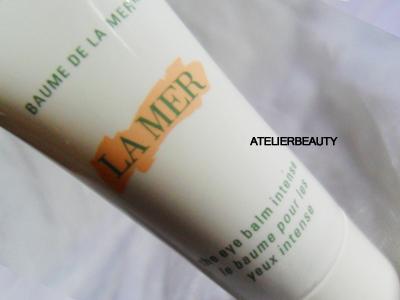 LA MER The Eye Balm Intense
Fortified with the potent concentration of the famed Miracle Broth, the Marine De-Puff Ferment diminishes the appearance of lines and wrinkles, while the Lifting Ferment lifts and firms the areas around the eyes. It comes with a silver-tipped applicator that cools the skin to help stimulate circulation and ensures the product to be absorbed effectively for that smoother, rejuvenated appearance.

This product goes in hand with their unique Acupressure Eye Massage, a technique that aids the de-clogging of the areas where dark circles are formed and helps to lift and firm where the skin has sunken.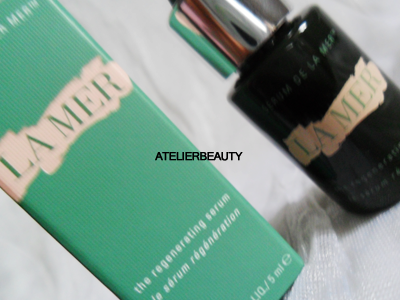 LA MER The Regenerating Serum
A Botox alternative, the Regenerating Serum lifts and firms the complexion and further repairs tissue under scars. The high concentration of the Miracle Broth, Regenerating Ferment and Marine Peptide Ferment boost the production of "youth proteins," collagen and elastin. The appearance of fine lines, wrinkles and pores will be visibly reduced with regular usage.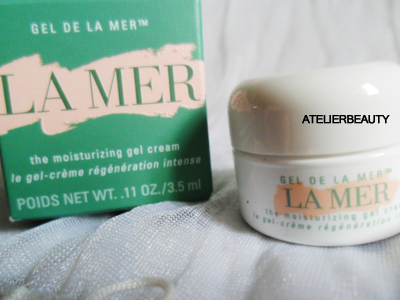 LA MER The Moisturizing Gel Cream
The Moisture Collection comprises of 3 variations of the legendary Creme de la Mer - the Moisturizing Lotion is a lightweight version of the Creme whereas the Oil Absorbing Lotion is oil-free.

The Moisturizing Gel Cream is the ultralight edition that is as emollient as the Creme with the same unique sea kelp structure. The gel texture offers the same hydration and is recommended for those with combination skin.

Unless the Creme with its thick consistency, Gel de la Mer saves time and product wastage since it isn't required to be warmed to activate the Miracle Broth. This penetrates better into my skin than the Creme and is suitable for my combination skin under the humid weather.

I normally would not do reviews on sample-sized products, but many of you have requested for them so I will try to post my opinions instead. I will also post up a step-by-step of the Acupressure Eye Massage in due time.