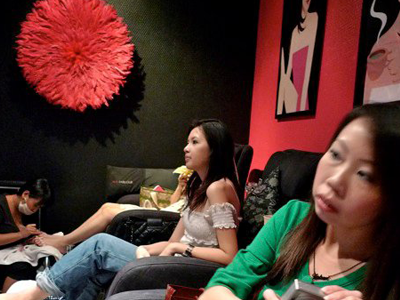 On Thursday I attended yet another bloggers' workshop, this time for Skin79. The popularity of this top Korean BB Cream brand has been on the rise in recent years - in its native country, Hong Kong, Taiwan and has recently made its way to Singapore.

The event was held at Pink Parlour, where we got a pedicure treat while listening to the introduction of the brand's Oriental range of products, which caters to mature skin.




I did not show my pedicured feet; I do not like my feet :X
But I'd chosen a Bordeaux color with glittery french tips☆

The Oriental range is suitable for mature and dry/combination skin in dire need of moisture and nourishment, the prowess of The Oriental range lies in repairing damaged skin and improving the appearance of wrinkles. Every product contains caviar, which intensely nourishes skin.
This is the only Skin79 line that is fortified with white tea, green tea and black tea. These 3 ingredients contains powerful anti-oxidant properties which are highly effective at repairing skin, improving its natural defenses, and reducing damage caused by too much sun exposure. Together, they are a powerful yet safe concoction to restore youth to the skin.



The Oriental Gold BB Cream (S$49.90)
Ideal for dry/combination skin that needs whitening and wrinkle improvement, this product replenishes skin's much needed moisture and nutrients to keep it baby-smooth and flawless. A multitasker that packs 10 beauty benefits in a jar, this also comes with a lip and cheek cream in dusty rose.

Product Benefits
- GOLD extracts not only restore skin's healthy glow, thanks to their inherent illuminating properties, but also improve blood circulation, as well as skin elasticity and firmness.
- CAVIAR contains proteins, minerals and key vitamins to intensely nourish, hydrate and prompt cellular regerneration.
- ADENOSINE & ARBUTIN penetrate deeply to whiten, brighten, iron out wrinkles and improve skin elasticity.
- SPF 25 PA++ protects the skin against UVA and UVB rays, which burn the skin, cause premature aging and contribute to cancer.




If you do not know already, BB Cream is also known as Blemish Balm that is known to have been formulated as an after-treatment to help patients who have gone through laser skin surgery to soothe and regenerate the skin.

The texture is light-weight and gives an even & natural-looking coverage that evens out my skin tone. It has excellent serum control that doesn't requires me to blot my face under the hot weather! I don't like the dispenser, it's hard to control the amount of product and I often pump out more than I need...




I was sold the moment I found out that it comes with a lip & cheek tint. The dusty rose shade gives you that natural, rosy cheeks and it is a breeze to blend it onto your skin.



The Oriental Lifting Eye Controller (S$26.90)
Intensely nourishing and moisturizing, this eye cream keeps the skin around your eyes firm and wrinkle-free - a vital sign of youth in any culture. It also has a handy applicator top that delivers the formula right onto the delicate eye area. Suitable for all skin types.

Product Benefits
- CAVIAR contains proteins, minerals and key vitamins to intensely nourish, hydrate and prompt cellular regerneration.
- JOJOBA OIL retains water loss, and enhances skin suppleness, making it useful for treating crow's feet, wrinkles and dry skin.
- ADENOSINE boosts skin's natural production of both collagen and elastin, proteins that reduce the appearance of wrinkles and fine lines.




I have droopy eyes, so this product comes in handy with is lifting properties. The cream is moisturizing, and leaves my eyes with a feeling of softness by offering hydrating effect.