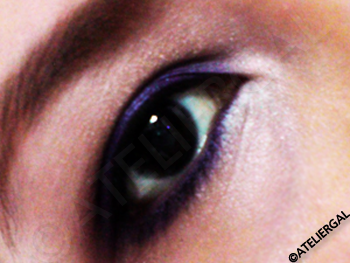 Despite using a better camera, it still failed to capture the results I desired. The look was much more smokey as I grinned at myself in the mirror. Alas! I have nobody to seduce, nor do I want to attract the wrong 'crowd.'



I was really bored on Christmas night and as I was about to turn in after the clock struck twelve on Boxing Day, the music score played on my music player, which is from Fright Night's seduction scene.

Eureka! I had the sudden urge to do a sultry look, to seduce a hottie like Chris Sarandon. ┐(´ー`)┌

What I use:
Laneige Snow Crystal Dual Base SPF22 PA+
-used brightener balm onto upper & lower eyes for maximized glow
SilkyGirl Funky Eyelights Pencil in Pure Purple (base & water line)
Coastal Scents 88 Shimmer Palette
-dark purple over base, blend upward & harsh edge
-nice shade of brown over crease to create a more intensive look
-white/champagne over brown color & highlight brow bone
-glittery white to highlight inner corners

Pair up the look either with a nude/peach lipgloss or red matte lipstick.

Honestly, I'm pretty anal about wearing makeup to bed though it may seem cool just like in the movies. But of course when PASSION takes over, well, remember to remove your makeup after that, and before going to bed (lol)

Alternatively, you can wear this look for a dinner event, clubbing or to an upcoming New Year party.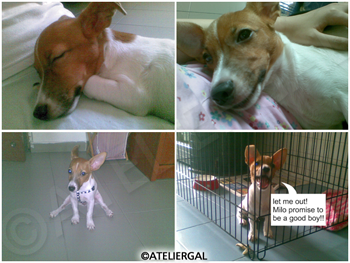 I've received many emails, asking for updates on Milo.
He seems to get more sensible as he gets older, hence all the more harder to 'trick' him back into his crate. At times it can take me up to 30mins to lock him up.
It really hurts me to hear him whine but he needs to be punished when he does something wrong. And I don't like to raise my voice either, but discipline is necessary... (/。\)