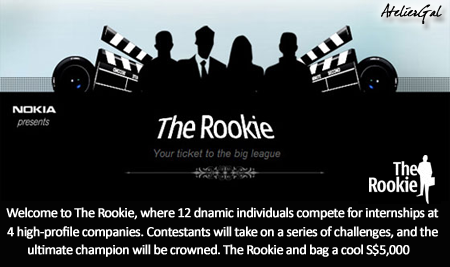 I am a fan of Donald Trump, and love watching The Apprentice, and the Celebrity Apprentice.

In a similar concept of competing in an elimination-style competition, here comes the Singapore version reality show, The Rookie! Out of 12 short-listed contestants, the final 4 will each secure a prestigious internship placement with 4 companies - Nokia, Microsoft, Standard Chartered Bank and Zouk. The ultimate champion will win the coveted title and bag a cash prize of S$5000!




The contestants formed two teams based on their individual strength and ability. The teams will then be given tasks to perform in order for them to proceed to the next rounds. They will be completing challenges and tasks armed with a Nokia E72 - maneurvering via suite of applications available, including Nokia Messaging, Instant Messaging (IM) and OviMail - to succeed as a team.

New episodes are webcast weekly. Follow the show and predict the winner! You could be one of the lucky 2 winners to walk away with a Nokia E72!