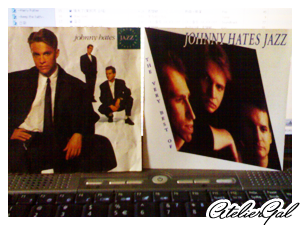 Johnny Hates Jazz
is one of the bands that I grew up listening to.
Save for fans like me, most people don't really know they exist. (lol)
Dad used to play their CD when I was younger.
The one on the left is more than 10 years old now.
That explains why the cover sleeve is so crumpled~
(^v^;)
My all-time favorite tracks are:
Shattered Dreams
Turn Back The Clock
Don't Say It's Love
Few years ago, I bought another of their compilation CD solely for the
12" Extended Mix
of "
Shattered Dreams
."
♪
And now you've given me, given me,
Nothing but shattered dreams, shattered dreams
♪
These few days, I can't stop singing this verse from "
Turn Back The Clock
:"
(´0`)~♪♪
If I could have it over, live my life again
♪




Johnny Hates Jazz
是我从小听到现在的乐团之一.
我想, 除了粉丝之外, 应该不会有很多人知道他们的存在吧(笑)
小的时候, 爸爸常播放他们的CD.
左边的CD是10年前买的, 所以CD的袖子才会那么皱~
(^v^;)
我最喜欢的歌曲是:
Shattered Dreams
Turn Back The Clock
Don't Say It's Love
几年前,我买了他们的精选集 -- 纯粹是为了《
Shattered Dreams
》的
12" Extended Mix
.

♪
And now you've given me, given me,
Nothing but shattered dreams, shattered dreams
♪
这几天, 我一直不停地在唱《
Turn Back The Clock
》的这句:
(´0`)~♪
♪
If I could have it over, live my life again
♪