KATE Cosmetics Brown Collection Eye Shadow and Brow (BR-3)
There are a total of 4 different selections for the Brown Collection duo pack. Each palette includes 3 eyeshadows and a 2-tone brow shades. I seldom purchase Japanese eye products because the pigments are often of a powdery texture with a pearlized finish. But I do like the shimmery, and natural finish.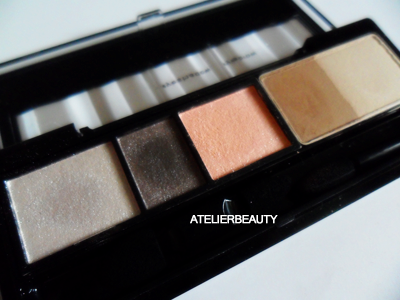 This particular product I got has complimentary accent shades - silver gray for highlight, medium charcoal to line your lashes, and a beautiful peach. Peach is ultra sheer, I couldn't get the color to show up in the photos below even with multiple build-ups. I don't recommend using a white base because the point is to get a NATURAL look. Instead opt for those with sheer creme shadows.

This is undoubtedly an ideal palette if you are still looking for a suitable look for the upcoming Valentine's Day. It gives you a natural finish, and the shimmers are adequate to bring light to your eyes.

I have no idea why my brows look dual-tone in the photo, probably due to the gloomy weather earlier. But it looked really natural in the mirror though. Hmm, it gives me an excuse to get some tinted brow mascaras *Grin* The lighter shade can be used to contour the area nearest to your nose bridge for definition.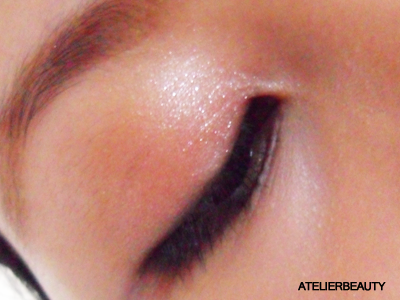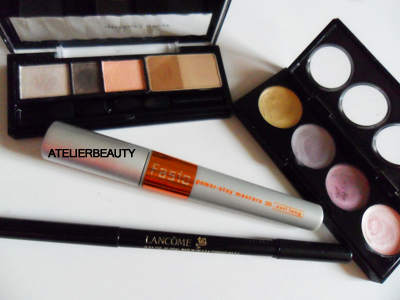 I am loving these REVLON creme shadows. They work really well as a base and doesn't crease on me, which explains why my TOO-FACED Shadow Insurance is sulking somewhere. This FASIO mascara is one of my go-to; it doesn't flake and is extremely water-resistant. I got this in Brown, that will compliment such soft, natural looks. LANCOME Le Stylo Eyeliner is one of my recent purchase; it comes with a sponge-tip applicator to smudge out the eyeliner. The product itself lives up to the "Waterproof" claim - doesn't budge at all, especially on the waterline.

Speaking of Lancome, the Pure Focus Oil-Control Mattifying Toner is no longer available at local counters. T-T