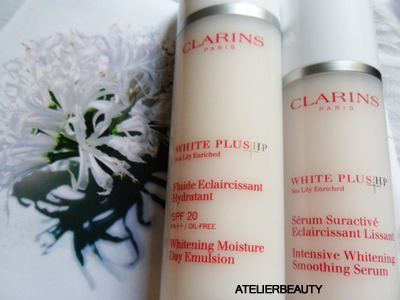 CLARINS White Plus HP Sea Lily Enriched range is effective in counteracting hyperpigmentation, reduce inflammation of skin cells and delivers micro-circulation to boost complexion radiance and restore youthfulness with very powerful brightening effectiveness. Using Sea Lily Extract as the active ingredient, is has the capacity to block the melanin tunnel, therefore the skin is better protected against any threatening development of dark pigmentation.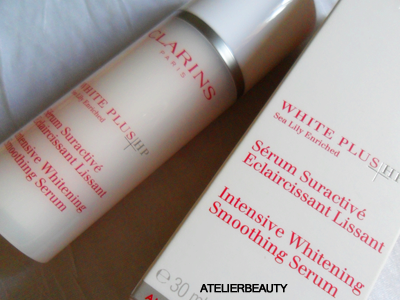 White Plus HP Sea Lily Enriched
Intensive Whitening Smoothing Serum
This whitening product minimizes dark spots while refining the skin texture, thanks to the presence of oat sugars, and also prevents any reappearance of dark pigmentation. This serum also firms facial features, smoothes away fine lines, and restores the skin's transparent rosy glow.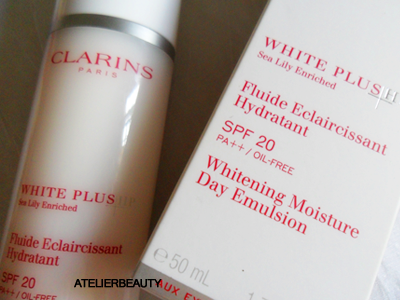 White Plus HP Sea Lily Enriched
Whitening Moisture Day Emulsion SPF20
This milky solution has a fine, melting texture that instantly brightens, moisturizes and protects the skin against UV rays with SPF20 PA++. This smooth Day Lotion also preps the skin to enhance and prolong makeup all day.

I have been using mostly the White Glove Extreme whitening skin care range by ELIZABETH ARDEN last year, and still have quite a few unopened products begging to be used in my stash. Hence I don't have a major problem with uneven pigmentation problems and can't give you an unbiased account when it comes to the brightening effect in reviewing these Clarins products.

However, I can vouch that they do maintain the skin's illuminancity. Having switched to another skin care routine for another round of product reviewing, my skin tone has gotten sallow in time.
During the period of test-driving the WhitePlus products which I had been using rigorously, I had undergone 2 separate skin analysis within a 2-month span. In spite of a visible breakout -bad reaction from another product I was testing at the time-, the epidermal layer of my skin was evidently hydrated, with a drastic improvement shown in the 2nd analysis.

Interestingly, the scan had also shown that I don't have much of a melanin problem. According to Dr Lionel de Benetti, head of Clarins research and development, each stubborn spot is created differently, thus we need an effective product that is able to lighten all spots, in all the the different melanin processes.

Forget about whitening facial masks that boost instantaneous but temporal results. The bleaching agent that gives you that shortcut brightening effect not only flakes, they do little to nourish your skin. Instead, invest in a skin care range that not only improves your skin condition on the outside, but most importantly encourages the elimination of dead cells within the deeper layers as well.

The serum and moisturizer do not flake on me, and absorbs well into my skin. The only downside is that my face starts to shine fairly quickly around the 2-hour mark, even on days when I chose to work from home. Thus, I have tried to pair up the products with other brands, in a bid to test out different combinations in terms of shine control but other moisturizers don't seem to play nice with the smoothing serum and causing a flaking situation.

Some of my friends felt the scent of be a tad too overwhelming, but I personally enjoyed the fragrance although it didn't linger on for too long. For those who share the same sentiments as my friends, you'll be glad to know that the 3 new additions to the WhitePlus family leave a really mild trail compared to their older siblings:


White Plus HP Gentle Renewing Brightening Peel (S$65)
White Plus HP Gentle Brightening Exfoliator (S$60)
White Plus HP Whitening Repairing Night Cream (SS110)
I will introduce and review these products in a future entry. In the meantime, head down to your nearest Clarins counter and check these new products!

There is a current promotion to purchase the WhitePlus set consisting of the serum and day moisturizer at S$220. For extra savings, head down to the Perfumes and Cosmetics shop located at T2, Changi Airport which is going for S$198(or is it $168; I can't remember though. I was lemming for the Lancome Genifique set which retails at S$198, that explains why I have these digits carved in my head)