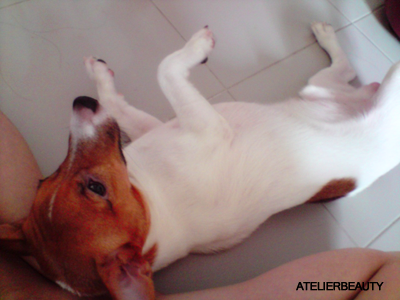 Milo seemed a lot better the next day. We spent Sunday morning at the field and he was enjoying himself like any happy pooch! But after a hot shower, things started to spiral: he felt lethargic and couldn't get to sleep. He followed me everywhere around the house and kept at a close distance to keep the mistress within his sight. It says a lot when your pet literally glued to you when he is at his most vulnerable and not to the other family members.

That evening we decided to bring him to the vet. Blame the brother who sleeps till mid afternoon and kept putting it off until the situation doesn't look pretty. Predictably no vets were available around the neighborhood. Fortunately, Milo appeared to be his usual self the next morning, hyper and being all cheerful. To think half the family took urgent leave for this ASSBUTT (lol)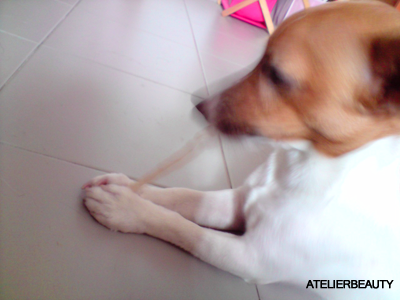 An abstract image of precious chewing on a milk stick. The ASSBUTT is a clean freak, by the way. He claws my door -by way of knocking- and expects me to wipe his butt after pooping. By midday, Milo had farted in my room TWICE!

This furry minor ordeal had put me and Mum freaking out, and I broke down twice! This unstable climate needs to pass, otherwise more of us are going to be sick. In the meantime, please stay warm everybody!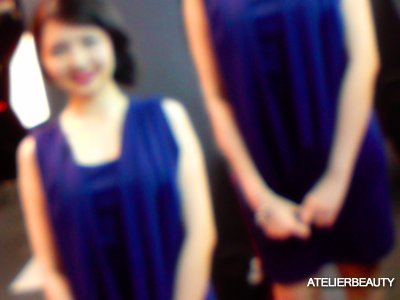 Yesterday I was at SPH Media Center for a photo shoot - the same location where the advertorial for ELIZABETH ARDEN took place last April. Same dressing room but with different personnel for another magazine. Special thanks to the lovely Rachel who contacted me last week, 3 contrasting looks were demonstrated for a beauty feature: one sporting the purple trends from the upcoming Color Design 5-pan palette eyeshadows by LANCOME. The 2nd look shows how to achieve a natural glam look with minimal effort yet to maximum effect. Lastly, my makeup cuts right down to the minimal - barely there face with bold lips!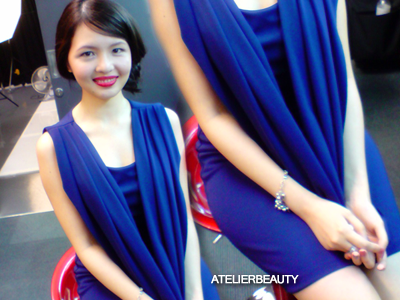 I have been test-driving this intensive serum and it has been causing me grief for a while. As a result red bumps flare up around my cheeks! Kudos to Tin, the makeup artist of the day who managed to conceal those buggers using products from MAKEUP FOREVER. I had on neutral brown colors on my eyes; deep red lips courtesy of AVERINE with a glossy 3D finish by BOURJOIS.

I was extremely conscious about my smile the whole time, because the colors kept staining my teeth. My hunger pangs, the cold climate and piercing air-conditioning got me shivering throughout the entire afternoon. Adding everything up, these outtakes probably look better than the actual studio shots, me thinks.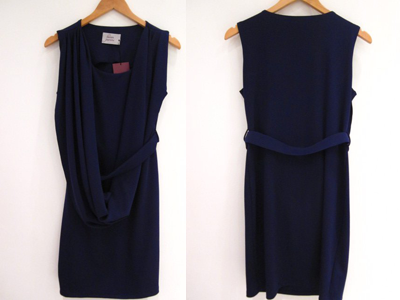 I was donned in an elegant garb by LAUREN JASMIN, paired by a sweet-looking hairstyle. After my makeover was done, I literally felt like a Korean!

Pssst! Busy Mummy Rachel, it was fun chatting with you while we tried to pass off the waiting time.