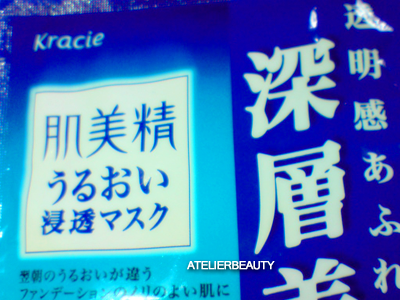 Facial masks come in handy just before an important occasion should you seek an instant boost. That being said, there are those that specifically brightens up your complexion albeit a temporal effect. This is the factor that keeps me from not purchasing because most of the ones I've tried tends to flake whenever I applied on moisturizer afterwards to lock in the essence from the product.

Hence I made sure to be mentally prepared the night I tried on KRACIE Deep Whitening mask sent to me for consideration. Fortunately the serum did not cause me any grief and I was able to do about my routine facial massage.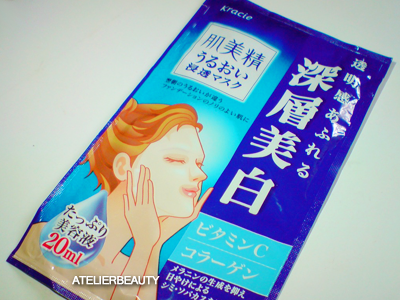 HADABISEI Deep Moisture Mask WE (Deep Whitening)
This Kracie product from Japan contains the Vitamin C derivative that suppress melanin production and prevents unwelcoming pigmentation and freckles to occur. The aid of Lemon Extract helps to soften the protective layer of your skin so as to allow the beneficial ingredients to penetrate efficiently.

The facial sheet fits my around facial contours nicely and doesn't slip during the 15-20mins treatment process. The cloth soaked up most of the essence thus there aren't much left in the pack - I love to use the excess around my neck and decollete region, and my long pins. With that being said, there are no signs of essence dripping on my clothes either.

Unfortunately, the whitening effect was mediocre but it differs with different skin tones. I failed to notice any brightening difference. However, I found the serum to be immensely moisturizing upon massaging into my skin. There was no flaking, and left my skin supple and dewy. It also allowed foundation to glide on smoothly.

There is a wide variety of the Hadabisei Moisture Mask series available now at all Watsons stores islandwide.