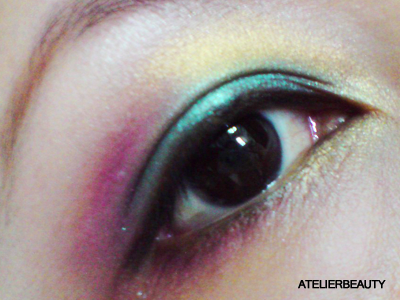 I never have much luck with the natural sunlight. Just when I thought this morning's weather is well-lit enough to warrant an EOTD, dark clouds start to form when I'm halfway through, BLEH! Hence these are pre-shots taken yesterday when I had time to play around with my stash, which explains the lack of blending and pigment intensity. The point of these pre-shots are to determine which color combos I could go for, instead of the usual browns and corals. There are days when I want to experiment too, ya know ´◡`

Anyway my agenda was to pair up the complimentary Turquoise/Teal and Purple but the latter appeared a lot harsher in the resolution above.


I first used the (1)Blue from REVLON Illuminance Creme Shadow in Moonlit Jewels as base, followed by (2)Aquadisiac from L'OREAL Open Eyes Chrome Intensity quad over the base and the White Highlighter(not shown) on the brow bone. One of my favourite color combos from L'OREAL HiP makeup range, I applied (3)Purple on the outer crease and (4)Gold on the inner corners with Flamboyant shadow duo.

Today I wore baby pink from the 78 palette in place of gold to soften the look for daytime. HaHa, I seem to favor spring colors! ´◡`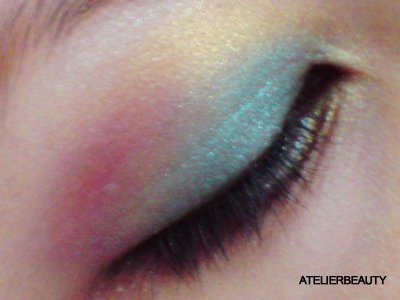 While typing this entry, I realized with the above image, it resembles the sun setting on the horizon doesn't it? It is the first scenario that pops into my head. I will definitely return to do a proper EOTD with this look, this time with the 88 palette as the soft textures are easier to blend.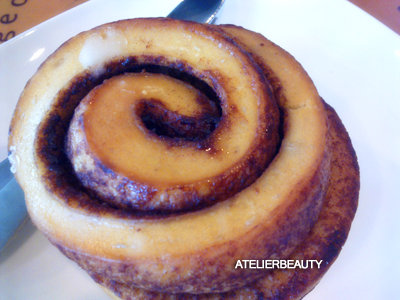 Many years ago there was a Cinnamon House(of sorts) near my now-defunct workplace. I used to head down every few days to get a pack of freshly-made cinnamon rolls. They come in trios and I am salivating while recalling the delicious cinnamon smell that lingered through the busy passage way where the shop used to be located.

Last week I met up with Sesame and we settled at Starbucks for a quick bite and catch up on the latest gossip. We mutually decided on Cinnamon Rolls as I grunted about the rudeness of the cashier. To our disappointment, the dough was awfully dry with a forgettable cinnamon taste.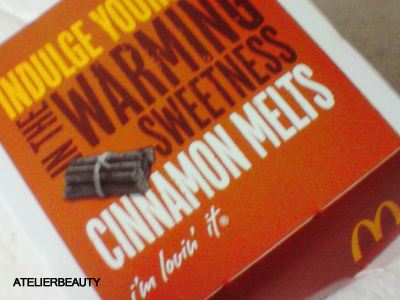 My tastebuds was still craving for more of the spicy condiment, thus I made my virgin purchase of McDonald's Cinnamon Melts. It consisted of warm donut breads topped with cinnamon sugar glaze and creamy cheese icing. YUMMY! Even Milo shared my acquired taste!