After recounting my favourite skin care products yesterday, we shall move on to MAKEUP! This is an extremely lengthy post so bear with me.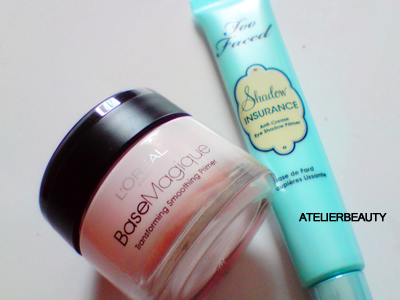 I have not found my HG face primer yet, though there are a few that have stood out such as SMASHBOX Photofinish and SEPHORA Smoothing and Mattifying primers. They are not featured here because I'm using the samples and are running out, which I will purchase eventually. Both have that waxy texture which I like; Photofinish gives a matte finish whereas Sephora's formula is slightly runny that will make your face dewy. I shall do an extensive write-up next year.

L'OREAL Base Magique
Due to my dry cheeks resulting in visible pores, this acts like a poly-filler that also smoothes out wrinkles and fine lines. The velvet texture spreads easily and mattifies my skin effectively. The oil control, on the other hand, is a total mess.

TOO FACED Shadow Insurance
I had purchase this after the base of my brand new URBAN DECAY Primer Potion cracked, boy this thing is a challenge. It is silicon-based mixed with oil thus the product has to be shaked well, otherwise the latter will ozze out first. Sometimes the formula dries up so fast it cakes up my eye product, that I have yet to configure out why. The staying power is good with its ability to keep the vibrancy for six whole hours.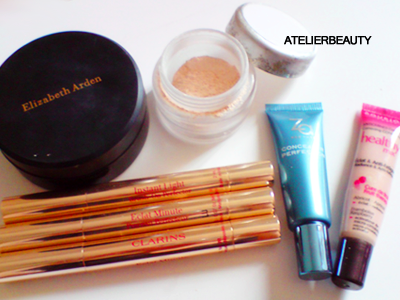 These days I rarely use liquid foundations nor a frequent patron of BB creams, opting to skip heavy assurance for special occasions. My term of lightweight coverage is using base products to a minimum and only concentrate on concealing my flaws. Since the afflicting areas are mostly my cheeks and chin, thus there is no need to mask the entire face.

ZA COSMETICS Concealer Perfection
BOURJOIS Healthy Mix Correcting Concealer
ZA's has been a longtime companion for its superb coverage on existing blemishes and scars; BOURJOIS is a nice alternative but slightly more hydrating, especially around the eye areas.

CLARINS Instant Light Brush-On Perfector
This product is meant to add luminosity to your features but they function well as a corrector too. I have been heavily dependent because it gives me an almost airbrushed finish. I use each of its 3 shades for different purposes - highlight, neutralize redness and eye brightener.

ELIZABETH ARDEN Pure Finish Mineral Powder Foundation
The soft focus finish compensates for its sheer coverage. The lightweight texture feels like a veil on the skin, as opposed to liquid foundation and BB Creams.

MUJI Loose Power
I've been using this for more than a year, and have recommended to many friends. My advise is to get the refill pack and purchase an empty jar to get your money worthwhile. The pearl powder-esque consistency gives a soft shimmer that doesn't make one look like a glitter ball. However excess of the product may produce chalky results, so use it sparingly!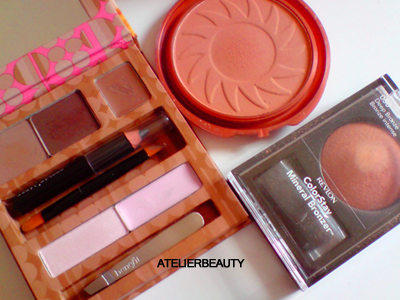 BENEFIT Brows A-Go-Go
For a time I'd rotated pencils and powders to fill in my brows but the finished look always looked iffy, and simply unnatural. This kit made my life so much easier, and my brows(using wax and lighter shade) have never looked any better!

The rest consisted of a mini eyeliner pencil which isn't water-resistant, mini tweezers, dual brush, eye brightener and brow highlighter powder. I particularly adored the last item for its subtly, fairly different from using shimmers or even matte white pigments. The finely-milled texture is easy to blend naturally into my skin tone with its shell pink pigment. Unfortunately, I was told that this product has since been discontinued when I'd visited the Takashimaya counter last week...

N.Y.C. Smooth Skin Bronzing Face Powder
REVLON ColorStay Mineral Bronzer
Contouring is a technique that I'd picked up this year, which not only lightens up the burden of having a "fishball face" but also sharpens the features. NYC's is a matte bronzer that not only compliments my skin tone well, the texture is sheer and extremely buildable. REVLON's Deep Bronze allows me to forgo blush and highlighter on the whole, giving me that sunkissed, natural radiant glow.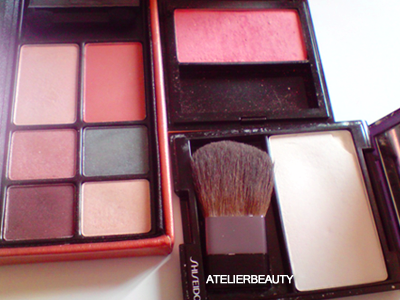 ELIZABETH ARDEN Sunlit Bronze Beauty Kit
This past year I have dabbled with a number of colors and combos: black, silver, grey, green, blue, pink, orange, purple but neutrals remain my safest option. It doesn't take too much time and I won't need to crack my brains figuring if this shade will agree with the other; just go from the lightest to the darkest shade of brown. This is especially helpful when I'm in a rush, which seems to be a common occurance these days...

Besides this palette, I also rotate with KATE's eye crayons and also eye products from NATURE REPUBLIC which I shall share in a later entry.

ELIZABETH ARDEN Pure Finish Mineral Cheekcolor
Formulated with aloe vera, cucumber and chamomile, the aptly named Rosy Glow is a delicate pink with light gold undertone. On days when I seek a heavier coverage, I would layer this moisturizing blush with MAC's Dirty Plum.

SHISEIDO Luminizing Satin Face Color
High Beam White bears a reminisince to BENEFIT's Brow Highlighting powder, but more multi-functional. Not only does it brightens the eye areas(brow bone, inner corners), I also sweep a layer over my dark circles and on the bridge of my nose.

Tip: apply highlights on your Nasal-labial Lines, which acts as an optical diversion.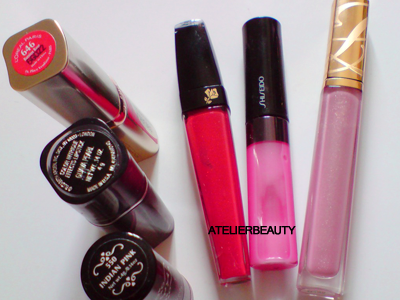 L'OREAL Color Riche Made for Me in Burning Rose
In contrast to my being conservative with eye colors, I dared to make a bold statement with RED LIPS, having worn it full-blow to several occasions this year. Unfortunately I couldn't make it work with Fuchsia colors but am determined to make it work so stay tuned for an update (lol)

ELIZABETH ARDEN Color Intrigue Effects in Guava Pearl
This is another glossy pink with gold undertones that blends well into my natural lip color. This pairs well with the Rosy Glow blush mentioned above.

NYX in Indian Pink
It appeared to be extremely peachy when worn alone, but if you blot the pigment and apply a layer of clear gloss, this product becomes a light coral shade. This range is really moisturizing and tames chapped lips too. A couple of shades that I've got my eyes on are often either sold-out or hard to get.

Lancôme L'Absolu Crème De Brillance in Rose Mythique
Cherry red with tinges of golden shimmer, I use this on top of Burning Rose sometimes to give my lips more dimension. These days I apply a layer, blot and finish with clear gloss to give a tint of color. There are times when I would forget to apply blush(!!) and this moisturizing formula spreads easily over my cheeks, and smells delicious too!

SHISEIDO Luminizing Lip Gloss in Pop Life(PK406)
This is my favourite gloss today. Creamy, non-sticky and fragrance-free. While I prefer to wear it alone, on days when I need to wear my makeup from day to night, I would apply it on top of a matte lip color to add dimension.

Estée Lauder Pure Color Gloss in Star Pink
Part of the Blue Dahlia Pure Color Collection, this shimmery light lilac shade smells like beer/champagne for reasons unknown. I really love the non-sticky formula, it is a pale gloss with light shimmer and is long-lasting. Muack!

Next Up: The End of a TrainWreck Decade.