After settling Christmas presents for friends and family, I finally have the time to sit down and decide what to get for myself! Not everyone gets to receive, you know what I mean *inserts grumble* Anyway, while browsing the Web to do some potential research, my mind drifted back to Lancôme Génifique which supposedly activates the youth proteins in your genes.

With claims to see "visibly younger skin in just seven days," I had previously tried a week's supply but did not notice any difference to write a first-impression review. It felt like any regular serum, and to be fair, I did not expect drastic results *cues Michelle Pfeiffer's magical rejuvenation*

I was itching to purchase the product to write a proper review but was appalled upon stumbling this "review" on MakeUpAlley: (click for larger resolution)



Lancôme and L'Oreal share the same corporate owner, L'Oreal Group but operates independently. Besides the distinctness in product pricing, the obvious difference is one being a prestige brand, while the other is mass-marketed. Since they are under the aforementioned parent company, there's bound to be some overlapping of ingredients used in their various products.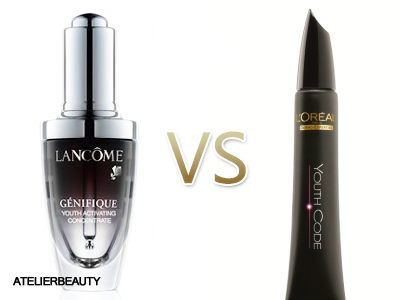 Lancôme Génifique claims to reactivate your genes whereas L'Oreal's latest anti-aging gene-inspiring skincare range Youth Code is supposed to induce the gene's ability to produce proteins. To put this blatantly across, both products function in a similar manner - by reactivating aging cells to prompt the skin to produce more youth-enhancing collagen yada yada.
Comparsions of Ingredients
Lancôme Génifique
Aqua/Water/Eau, Bifida Ferment Lysate, Glycerin, Alcohol Denat., Dimethicone, Hydroxyethylpiperazine Ethane Sulfonic Acid, Sodium Hyaluronate, Phenoxyethanol, PEG-20 Methyl Glucose Sesquistearate, PEG-60 Hydrogenated Castor Oil, Salicyloyl Phytosphingosine, Amonium, Polyacryldimethyltauramide/Amonium, Polyacryloyldimethyl Taurate, Limonene, Xathan Gum, Caprylyl Glycol, Disodium EDTA, Octyldodcanol, Citric Acid, Citronellol, Parfum/Fragrance.

L'Oreal Youth Code Concentrate
Aqua/Water, Bifida Ferment Lysate, Glycerin, Alcohol Denat., Dimenthicone, Hydroxyethylpiperazine Ethane Sulfonic Acid, Peg-20 Methyl Glucose Sesquisterate, Sodium Hyaluronate, Salicyloyl Phytosphingosine, Palmitoyl Oligopeptide, Palmitoyl Tetrapeptide-7, Adenosine, Ammonium, Polyacryldimethyltauramide, Disodium Edta, Caprylyl Glycol, Citric Acid, Xanthan Gum, N-Hydroxysuccinimide, Chrysin, Octyldodecanol, Sodium Benzoate, Phenoxyethanol, Limonene, Parfum.

It doesn't take a dermatologist to point out the number of identical ingredients; keep in mind this is a quick glance at the components thus I am not going in-depth on the scientifics. I made the trip down to the nearest drugstore to check out Youth Code Concentrate - the texture is rather creamy, as compared with the runny consistency from Lancôme. In regards to the pricing, it cost merely S$45.90 whereas Génifique sets one back at a staggering S$170.

Naturally as a consumer, it's logical to choose the product that would save dollars. In this cost, a whole lot. But I urge you to do more research on the various un-highlighted ingredients to get a better understanding, and will help gauge the justification in getting Génifique.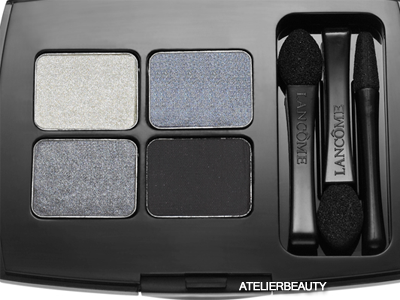 On the makeup spectrum, I had a moment of epiphany upon setting eyes on the eyeshadow quad from Lancôme's L'Wren Scott Holiday Collection a while back. The colors resemble L'Oreal Open Eyes Eyeshadow Palette in Stellar! I have been prowling everywhere and kicking myself at the same time, because the product is nowhere in sight... (つд⊂)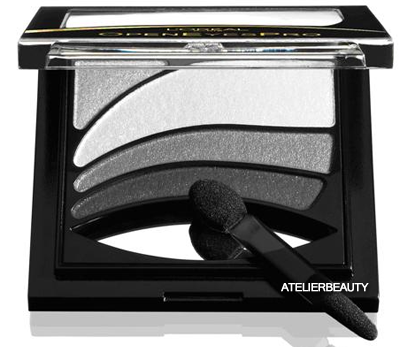 I should also mention that L'Oreal Group owns Maybelline, which explains why their latest Open Eyes Pro eyeshadow palette in Black spots the almost-too similar monochromatic shades. While I cannot comment on the texture, but this is another prime example of, for lack of a better term, product recycling.