CLARINS Instant Light Brush-On Perfector (S$45)
The formulation contains the Light Optimizing+ Complex -a new innovation from Clarins Laboratories- that is great for highlighting purposes. Apply on light-catching areas such as the forehead, brow bone, cheekbones, cupid's bow, chin area and on your nose bridge. The light-reflecting pigments act as an optical distraction that blurs out any appearance of wrinkles and fine lines.
The Instant Light Brush-On Perfector also contains oat sugars which are natural skin-firming agents that gently smooth your facial features. Further enhancing the product is a high performance hyaluronic acid that forms a protective film to seal in moisture within the skin.

A "radiance pen" that banishes dark circles and perk up tired eyes by bringing light and radiance to the skin. The texture is very creamy and blends easily although I strongly recommend applying eye cream first. Trust me, this will help to prevent subsequent products from creeping into the crevices on your undereye area.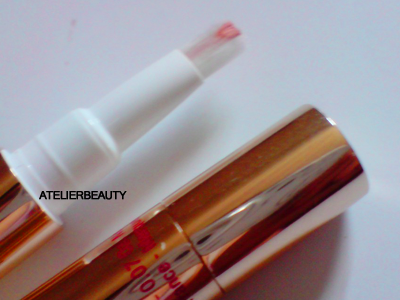 The formula comes in a pen, and to push up the product, you just twist it until the highlighter oozes onto a brush. I find it hard to control the dispensability which piles more-than-needed product on the tip of the brush, thus increasing the inflexibility to use apply it directly on areas that needed to be brightened. On top of that, the brush doesn't allow easy blending and I prefer to use a foundation brush. Using my finger is out of the question and the heat generated tends to dry up the formula and causes the product to cake. The product is not to be mistaken for a concealer - the sheer coverage falls short on concealing scars nor existing acne. Some concealers tend to turn ashy due to oxidation resulting in a fatigue look, thus this luminizing pen comes in handy to give my eyes that instant boost of radiance. E.L.F. Studio Under Eye Concealer & Highlighter makes a budget-friendly alternative.
If your dark circles are severe, use a corrector and/or concealer beforehand. These past few months I have been rigid in massaging my face; not only does this routine improves my overall complexion, my eye bags have significantly reduced and shadowy areas under my eyes are gradually diminishing.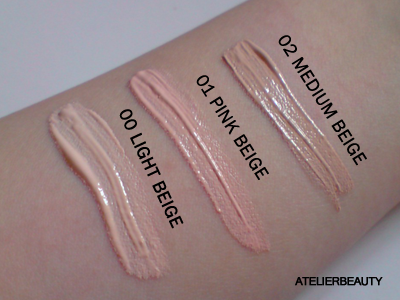 That being said, the Perfector isn't just another highlighter, like the raving Yves Saint Laurent Touche Eclat, it can also be used as a corrector depending on your skin tone. While I use 00 Light Beige primarily to illuminate areas that catches light, 01 Pink Beige works surprisingly well in neutralizing redness especially the area round my nose and other blemishes. Since my eye areas aren't as problematic as before, I use 02 Medium Beige to conceal any obvious signs of fatigue.

The Instant Light Brush-On Perfector retails at S$45 each and can be conveniently purchased at all Clarins counters. There are 4 shades available, but I believe it differs in different regions.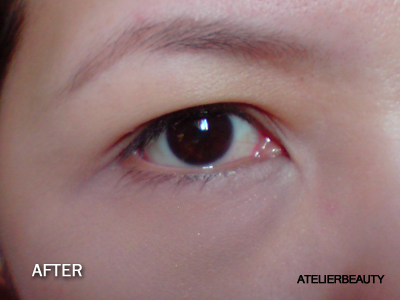 Using solely the Perfector in 02 Medium Beige which suits my skin tone the most, notice the brightening effect albeit the grey cast peeking through.