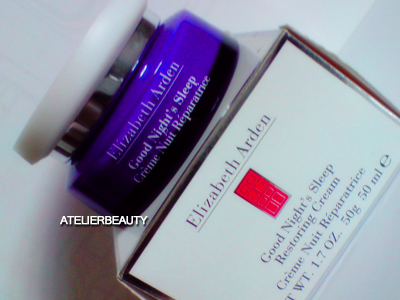 I suffer from insomnia in times of stress, depression and my biggest nightmare - writer's block. My form of relaxation is a good book and enjoyable music, but when I've ran out of resorts, I turn to aromatherapy. While I had previously gushed over the Satsuma scent, Lavender is another one of my favourite.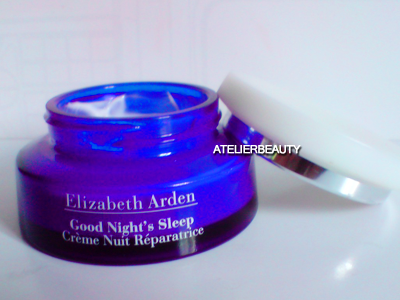 ELIZABETH ARDEN Good Night's Sleep Restoring Cream
Aptly named, this luxurious night cream from Elizabeth Arden contains the aromatic lavender to enhance relaxation and calmness. Most of us tend to have mood swings from the irritability derived from not catching enough shut-eye, hence this light, flowery scent is ideal to help unwind your mind and body.

Another prominent ingredient is Honeysuckle with its antibiotic properties. Often used for medical purposes, this herbal inclusion helps to treat skin irritation such as rashes and outbreaks. Other components in the concoction include Shea Butter, Evening Primrose Oil and Panax Ginseng Root Extract.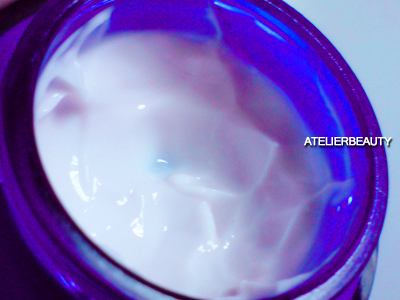 The product comes in the form of a jar, so I used a spatula for hygiene's sake. Although I don't see fine lines and wrinkles diminished according to the product's description, but the pleasure of waking up to my skin feeling like a baby's bottom puts me on cloud nine every morning! The cream is incredibly rich, so a pea-sized amount is sufficient per application. Extra effort to massage in the formula is strongly advisable - not only does this facial exercise promotes blood circulation, it enables the beneficial ingredients to absorb into the skin properly. Fortunately, I did not experience any breakouts pertaining to the lavender embodiment. My skin feels significantly softer, firmer and more resilient with each usage. There are no signs of any softening in my fine lines and wrinkles, according to the product description.

Many important body functions occur when we are sleeping such as tissue regeneration, regulations of insulin and blood sugar etc. By contrast, chronic sleep deprivation accelerates tissue degeneration and aging of the brain. So if you are an insomniac or crave for something aromatic to be integrated into your skincare regime, this product is worth a try. To a certain extent, it does help me slip into dream mode faster and minimizes my nightly battle of tossing and turning.