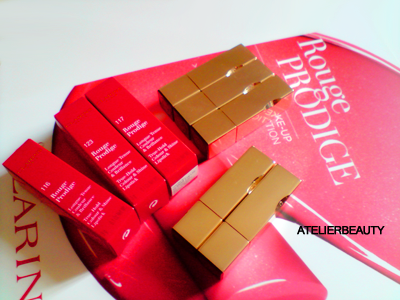 The Fall 2010 Rouge Prodige Collection comprises of 29 new shades. Referred to a "high performance formula," it is designed to be long-wearing, but moisturizing and comfortable to wear.

CLARINS uses a new patented-polymer, High Fidelity Pearl for intense color with ensured durability. In addition, the shades are whipped up wtih ceramides and waxes for comfort and prevents dehydration.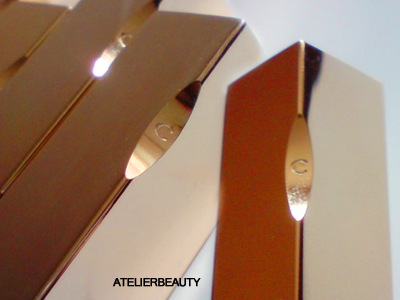 Each lipstick comes in a luxurious gold, mirror-like packaging with beveled edges. The slanted tube is embossed with the brand's logo, and the lid stamped with a stylized Clarins leaf, eliegantly marked with its inital "C."

When applied, the formula falls between sheer and medium coverage; creamy gloss with a satin finish. It's not drying on the lips, but doesn't give much hydration either. It glides on smoothly but proves to be a challenge on chapped lips, thus I strongly advise to exfoliate and apply lip balm prior - the product accentuates and seeps into the lines of my lips.

For those concerned with color migration, the pigment-rich lipstick promises a true hold color which lasts up to 4 hours. I often find it a hassle to touch-up when I'm outdoors, prerferring to apply once and forget about it. So this product is good news to thy lips! On the downside, it leaves a gentle stain that takes a mild effort to remove, so put on a thin layer of clear gloss before application.

The Rouge Prodige True-Hold Colour & Shine lipsticks are now available at all Clarins counters, retailing for S$35 each.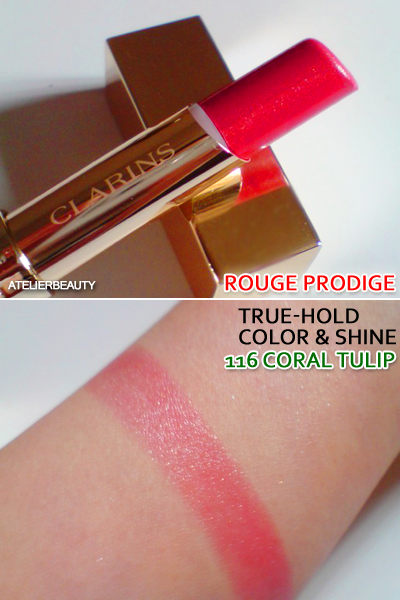 I have been alternating these shades ever so often that sometimes I wish for more than a pair of smackers (lol)