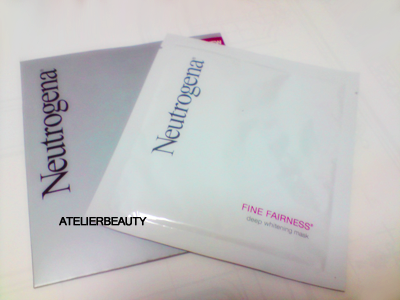 Neutrogrena Fine Fairness Deep Whitening Mask
I love such facial masks as they provide intensive nourishment conveniently - I usually use one every 2-3 days and then continue with my writing until the designated 15-20mins are up. They also act as instant perks-me-up, I like to slap it on prior makeup when my skin craves for that much needed hyrdation and glow before going out for important dates and events.

The upgraded HealthyWhite Complex helps to brighten up skin tone; the whitening essence lightens the melanin beneath the skin layersto give lasting translucent.


This whitening mask has a new forumla that features a new 3D Push-Infabric that fits (nearly)perfectly against my facial contours. Thecloth is slightly thicker compared with the others I have tried, andthe stretchable design means that more essence can be pushed deeplybeneath the skin layers.
I am also a fan of the brand's Deep Hydrating Mask, but prefers this one more because of the said fabric material. Additionally, the hydrating factor is top-notch: the essence is absorbed quickly and mattifies my skin. Cool, huh? It softens my skin which allows the nutrients from my night cream for better absorption.

With gradual use, I do notice my skin tone is slightly even, and there is a nice healthy -but not to be mistaken oil-shine- glow. As for the whitening part, you might want to use it for a prolong duration to achieve that desired effect.