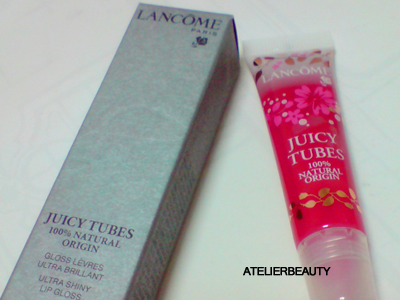 Lancôme 100% Natural Origin Juicy Tubes
Since its launch in 2000, ladies from all around the world have been scooping up these iconic luscious glosses, which have since garnered several beauty awards for their irresistible shine and tasty flavors. To celebrate its tenth anniversary, Lancôme launched a limited edition version last April.

The formula, flavors and pigments are 100% natural and preservation free. Using Hungarian honey as the main ingredient, naturally-derived hydrators like royal jelly extract, beeswax and shea butter were also used. Sweet concoction of vanilla, apricot and raspberry flavored the glosses while annatto
and carmine pigments add coloring.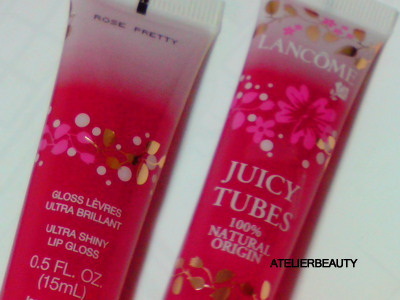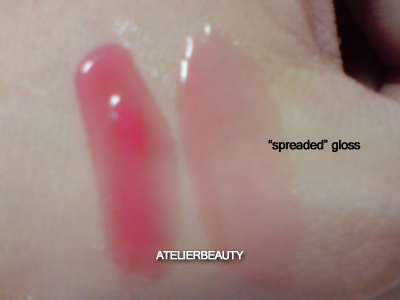 Rose Pretty is a sheer reddish pink and smells like watermelon when I first got it. The other day I thought it had a whiff of berries. The packaging allows for simple application with its whistle tip and you don't even need a mirror until you are not familiar with the shape of your lips.

The gloss isn't exactly pigmented; it is super opaque for the most part, but gives the lips a very subtle kiss of red when layered. Beware that this is an extremely sticky product, and may I kindly suggest, do not wear it before kissing your beau unless you want to UHU-ed him to thy lips!

It makes a good conditioning agent for chapped lips but I just can't get over the stickiness with only a thin layer on. The thought of making multiple re-applications and to discover a fly stuck to your lips when looking in the mirror shudders me sometimes!

The fruity-esque scent is mild and stays on for as long as two hours. Occasionally I use this as a balm and if you own lipsticks that have a dry formula which accentuates chapped lips, use Juicy Tubes glosses as a base and to smooth out dry lines.