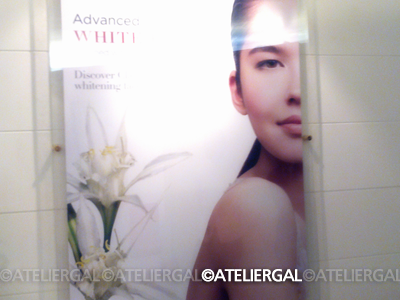 Thank You once again to the lovely Communications team at Clarins, I was given a truckload of goodies at the end of the very private yet casual bloggers' session.

During the "Skin Me" time, which is a 15/30 minutes(depending on your availability) one-to-one session, Jasmin applied Clarins' beauty regime on my arms. When you head down to the counters, the beauty specialist will do it on your face so as to identify your skincare concerns precisely and can recommend the correct products which are suitable for your skin type.
I often felt that my face looks dull. No matter how many whitening products I have used, the brightening effect only managed to last a couple of days. Especially when I'm PMSing, my complexion will appear so yellowish that it can totally dampen your mood. Sound familiar? So in my continous search for whitening products, I was introduced to Clarins White Plus HP Sea Lily Enriched Skincare range.

Formulated for Asian skin and has gathered a cult following among celebrities in Taiwan, Japan, Hong Kong, these products are effective in counteracting hyperpigmentation, reduce inflammation of skin cells and delivers micro-circulation to boost complexion radiance and restore youthfulness

With Sea Lily extract as the key ingredient, Clarins Research Labs have discovered that it can block the melanin tunnel, therefore helping to control melanin production. To put it in simple form, it reinforced protection against dark spots and less pigmentation problems for you and me!

One thing to note: with the inclusion of the Sea Lily extract, there is the absence of the Clarins unique scent. I can't really explain but head down to your nearest Clarins counter and take a sniff of their products(the green packaging).

Upon consultation, I was given these two products to try: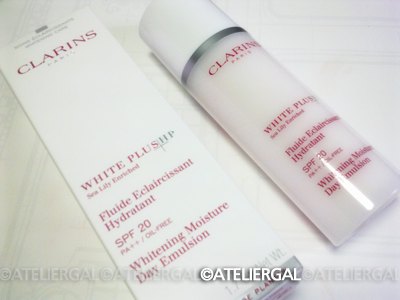 White Plus HP Whitening Moisture Day Emulsion
This milky solution has a fine, melting texture that instantly brightens, moisturizes and protects the skin against UV rays with SPF20 PA++. This smooth Day Lotion also preps the skin to enhance and prolong makeup all day.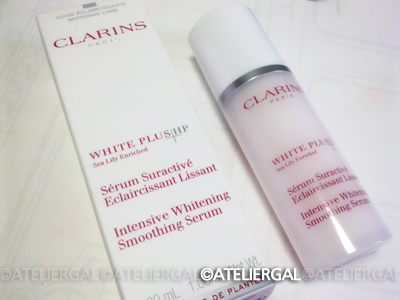 White Plus HP Intensive Whitening Smoothing Serum
The most advanced skin care for a flawless complexion, this serum minimizes dark spots while refining the skin texture, thanks to the presence of oat sugars. This serum firms facial features, smoothes away fine lines, and restores the skin's transparent rosy glow.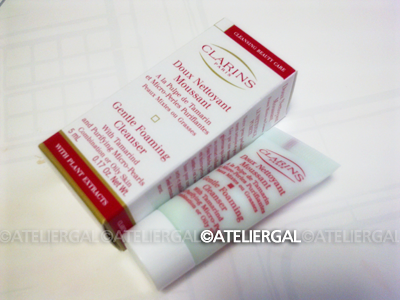 Gentle Foaming Cleanser
Created to meet the needs of dry or sensitive skin, this cleanser is contains Katafray Bark Extract that prevents moisture loss and prevents the skin from drying out. Suitable for all skin types, this product is rich in Shea Butter and Pro-Vitamin B5 that nourishes and softens the skin.
Kudos to the combination of Shea Butter and the many plant extracts, this cleanser smells ~heavenly~. Head down to your nearest counter and take a sniff☆


One-Step Facial Cleanser
A 2-in-1 product that cleanses and tones the skin, removing every traces of makeup and promotes radiance. Ideal for travelers or agitated lifestyles. It contains ultrafine oils that is able to thoroughly cleanse the skin and the moringa seed extracts help to combat and neutralizes the effects of pollution and purifies the skin to restore its natural radiance.

I had mentioned about my upcoming vacation plans and this cleanser came highly recommended. The PR ladies have been using the full-sized product for one whole year and are nowhere finishing it. All you need is a small amount to cleanse your skin, and it contains orange extract that does triple work: refresh, tone and revitalize. On the downside, this product does not remove mascara effectively.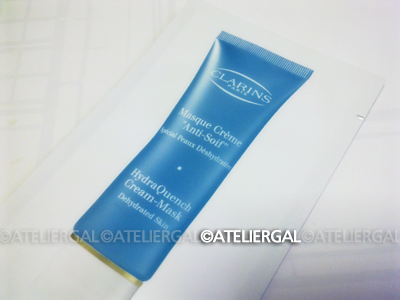 HydraQuench Cream-Mask
A cream-mask that intensively hydrates and revitalizes dehydrated skin, in all climates, at all times. Leaving on for 5-10 minutes helps to ensure balanced hydration and prolongs skin's freshness all day long.

I never dare to use any cream (especially clay) masks on my eye area, and after speaking out about my dilemma in looking for a hydrating eye cream, a sample of this was given to me. I'd previously tried the Smoothing Gel(on my face) but it didn't sink into my combination skin, thus I was looking "oily" whenever I used it.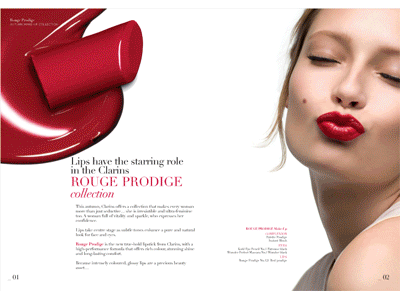 Rouge Prodige Collection
As part of Clarins' Autumn 2010 make-up collection, this season is all about the lips. Introducing 29 exciting new shades, they are divided into 3 "families": pinks to plums, corals to reds and beiges to browns.

This forthcoming collection also features 3 limited edition products: Platte Prodige Face & Blush Powder that unifies and illuminates the complexion with new radiance; Instant Blush that brings colour to the cheeks; Kohl Eye Pencil(S$27) is perfect for creating that smouldering look.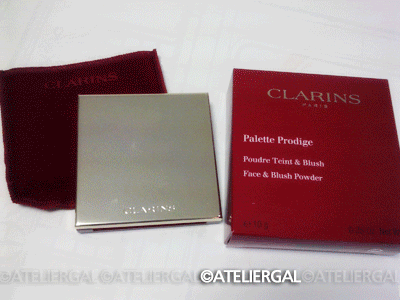 Palette Prodige Face & Blush Powder (S$65)
Presented in a sleek gold case with a refined, elegant design, this compact powder enhances the complexion with its universal harmoney of 4 radiant shades. The fine, lightweight texture give a velvety, ultra-natural finish and instantly illuminates the complexion.
(As the colors were to sheer, I was unable to capture a clear swatch.)
To naturally enhance and even out the complextion, blend together the 4 shades:
Top-Left: Natural Beige
Top-Right: Pale Pink
Bottom-Left: Sparkling Coral
Bottom-Right: Sun-Kissed Beige
This can be used to set your makeup for a healthy glow, or on cheeks as a blusher.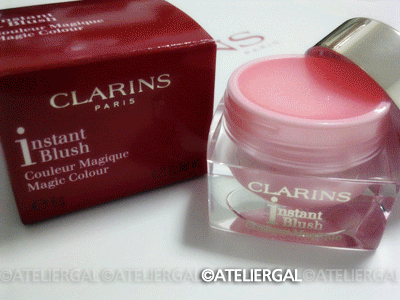 Instant Blush Magic Colour (S$42)
Contained in a small transparent square jar with a gold lid, this blush is of a glossy, gel-textured iridescent pink(one colour) and can also be used on the lips. The "magic" element is that this formulation instantly reacts on contact with the skin, enhancing the cheeks by boosting their colour and radiance.

The colour shows up differently according to our skin tones. One application shows sheer, almost-to-nothing but with a second layer, I saw this natural rosy pink on my cheeks. As if I was blushing at the sight of a hunk! The texture is slightly sticky and is recommended to be used before setting your face with powder.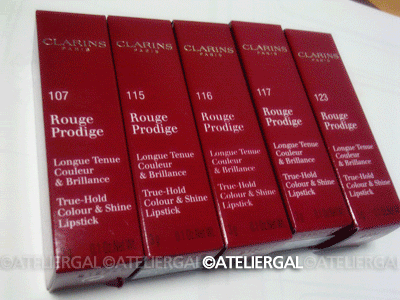 Rouge Prodige True-Hold Colour & Shine lipsticks (S$35)
Rouge Prodige is presented in an elegant, light gold case with a new chic, graphic design. Its tube has a slanted top and is embossed with the Clarins logo. Thanks to a technological innovation used here for the first time, the lid is stamped with a stylized Clarins leaf, delicately marked with the initial C.
(The casing is GORGEOUS, let me know if you want a closer look. I'll include more shots.)
Prodige lipsticks offer "stunning shin and long-lasting comfort" that never runs and lips take on the starring role in this overall collection. The shades are whipped with ceramides, essential fatty acids and waxes for nourishment and comfort.

The various shades of Rouge Prodige are divided into three 'families' which are: pinks to plums(14 shades), corals to reds(7) and beiges to browns(8).

Again, let's give the lovely Communications ladies a big pat on the back. I was able to choose the shades that I like, hence I was swatching like crazy looking for the shades that I would wear on a regular basis. The problem was that the shades were too appealing and I had a hard time shortlisting the 5 potential lippies to bring home. As you can tell from the photos above, I picked mostly coral ones since they compliment my skin tone. I have a blush in Tea Rose, so it might be interesting to pair it with an identical lip color. Yay or Nay?

The Autumn Collection will be available at local counters from August 2010.

This lengthly post has finally come to an end, and so is my Saturday. I can't believe it took me hours to type this up, including dinner time and distractions from the pooch who wants to play ball. Thank You for reading. Enjoy your weekend or what's left of it.