Congratulations to Shiseido Asia for collecting more accolades at the Watsons Health Wellness & Beauty(HWB) awards '10! ゚+。:.゚ヽ(*´∀`)ノ゚.:。+゚
Awarded for Quality & Innovation, these winning awards are a reflection of the popular taste and consumers' changing preferences & lifestyle. In a nutshell, these best-selling products were "voted" by paying consumers at Watsons stores islandwide.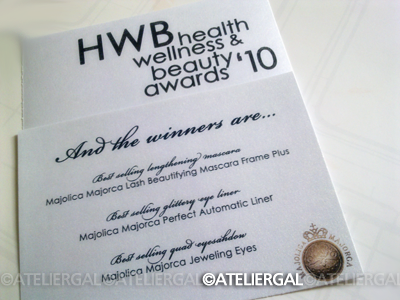 Shiseido's Majolica Majorca was launched in Singapore 2 years ago. When you visit some of the larger Watsons stores, you'll find pretty dresser displays filled with plenty of testers.


Best-Selling Glittery Eyeliner - Perfect Automatic Liner
It comes in a click-pen applicator with a synthetic bristles brush. I got this in BK920 which has a bold black base with subtle pearlescent colors.

Best-Selling Quad Eyeshadow - Jeweling Eyes
Available in 8 palettes, each comes with 4 complimentary colors packed in cute princessy compacts. PK785 is a pretty & feminine soft pink palette. The pigments are formulated with a mixture of virtually colorless, translucent pearls of various sizes, a range of light reflections occurs, resulting in a variety of light intensities being reflected from a polyhedral cut. The eyelids then emit contrasting glitter every time they are seen from different angle.

Best-Selling Lengthening Mascara - Lash Beautifying Mascara Frame Plus
Comes with a 2-sided comb - one that lengthens the lashes and and the other to create long separated lashes. The lengthening liquid contains jet-black fibers that will extend your lashes; the formula doesn't smudge, is long-lasting and water-proof.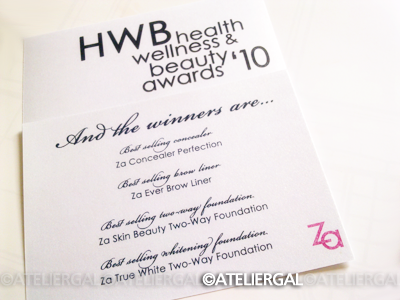 ZA Cosmetics has been around for many years. In fact, their best-selling star product, the two-way foundation cake is the first one I'd ever owned before venturing into other brands.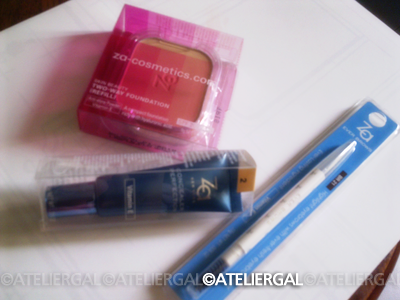 Best-Selling Whitening Foundation - True White Two-Way Foundation
The smooth, micro-fine powder provides a delicate veil without clogging the pores. This foundation minimizes the appearances of pores and helps even up skin tone for a natural and radiant finish.

Best-Selling Concealer - Concealer Perfection
Didn't I mentioned that this concealer has really good coverage? This creamy concealer is able to cover imperfections like dark circles and acne scars and contains Vitamin E to energize the skin. However, I feel that the formula is too dry to be used on my under-eye shadows, and my earlier purchase still has not resurfaced!

Best-Selling Brow Liner - Ever Brow Liner
Comes with a special brush for grooming and coloring brows, the specially designed applicator allows control for better color density using light, feathery strokes.


The Next Big Brand Brand - AQUALABEL
This brand has quickly received critical acclaim, having been raved all over in Taiwan and Japan for many years before it finally hit our sunny island. Only officially launched last month, the products have sent local women going gaga at Watsons. I am certainly not exaggerating here, for the counters are always packed.

I picked up the Aqua Enhancer Mo which belongs to the moisturizing range. It contains high concentrations of Aqua Synergy to supercharge all skincare ingredients into deeper layers of the skin. In a nutshell, this is meant to be used as the last step of your skincare routine, to lock all the goodies from the products you have used, thus they are effectively and maximally absorbed.

This star product can be used with other products. As such, I can continue with my normal beauty regime, and seal in all the goodness with the Enhancer.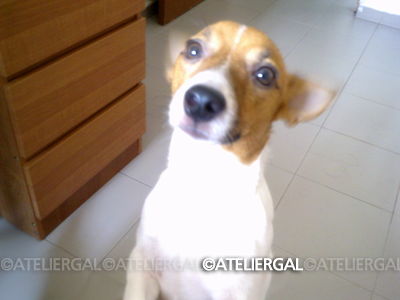 Looks like the pooch is STARSTRUCK ☆o☆

PS
Just minutes ago, Milo handicapped a big cockroach and went to hide at a corner while I smacked the damn pest with a broom. BRAVO, my darling!