Last week I was invited down to ADONIS for a pampering session. I remembered this chain of salons had a string of advertisments in the 1990s. Who could ever forget the "ADONIS 爱美雅~" jingle?

This local establishment has been taking a backseat in the last few years to build up their expertise and reputation. This under-the-radar move proves to be smart as the staff greeted me at the door were really friendly and focused on explaining the treatment that I was to undergo that day.


3 pots of herbal tea - Anti-Toxin, Anti-Flush and Energy Plus were located at the guest reception. Since my session was all about relieving tension, I was handed a cup of Anti-Toxin tea to flush out the "heatiness" and toxic within my body.

I was then led into a small, but well-ventilated room for my Chakra treatment. There, I was told to remove all accessories and clothes, including my undergarments. Once changed into disposable bra & panties, I wrapped myself with a towel and Nicole, my therapist helped me into bed.

No pictures galore this time as no one volunteered to be the photographer. Furthermore, it is a full body massage with slight nudity involved, I wouldn't be comfortable with a third person in the room.

After removing my makeup, followed by a cleansing routine, we shall now proceed to the 7 Haven Chakra holistic therapy.

7 Chakra origins from Ayurveda, a Sanskrit word which means "science of life" or "practice of longevity." This is India's traditional system of medicine that touches on all five senses to impart a deep and total feeling of well-being. With precise and gentle techniques, an infusion of Synergy oil extracted from the plant species is massaged into the system to help in the realignment of our body's centre axis.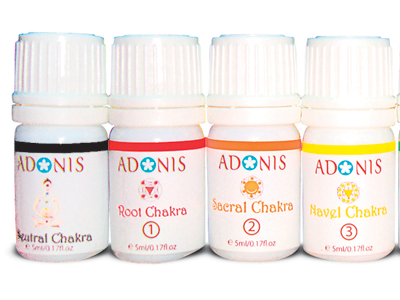 7 Chakra rebalances the energies of the body with the application and inhalation of the Aromatic Essential oil. The ingredients used in the essential oil are ethically harvested from air pollution-free natural habitat. Utilizing Eco methods to maintain the health of both plants and soil, non-toxic chemicals and fertilisers are used, which in turn ensures that groundwater are not polluted.


7 Chakra: Base, Sacral, Navel, Heart, Throat, Brows and Crown.

The infusion of the essential/synergy oil used for Base, Sacral and Solar Chakra are classified as "warm" emitting frequency oil which balances the "yin" are of the reproductive system, Abdomen and Navel.

The essential oils classified as "cool" emitting frequency oil that balances the "yang" area of the Heart, Throat, Temples and Crown.


The massage started from my legs, tummy, back, shoulders, temples and lastly, my crown. Nicole was uber friendly and our conversations were revolved around our pets throughout the 2-hour session.

The entire duration proved to be too comfortable, not the mention the soothing aromal of the various essential oils, my brain was a total blank! I was trying to focus whatever brainpower I have on not fidgeting. You see, my body is sensitive and in turn converts to ticklish fits at the touch of foreign hands. Fortunately my nerves "reacted" well with Nicole, PHEW!

According to her, I am in good health. My muscles were stiff in a good way, and none of my limbs appeared to be tired. Before you go in for the treatment, PLEASE DO NOT DRINK ANYTHING! Take small sips of the offered tea, otherwise... About 30 minutes before I went in for the therapy, I had lunch at MacDonalds. I was trying to control my containing how-many litres of medium Coke bladder, so just imagined me starting to fidget when Nicole starting to press my tummy and going in circles for 5 torturing minutes!

After the 'ordeal' was over, I was treated to a refreshing mask and left alone for 20 minutes, listening to Ayumi Hamasaki's piano instrumentals.


At the end of the session, I could breathe more easily INTERNALLY with the aid of the Green/Heart Chakra essential oil. Infused with Lavender, Cypress, Pine and many other ingredients, this helps for better blood circulation and strengthens the immune system. Before Nicole begins massaging with a new Chakra oil, she'll pour a small amount on her palm and have me inhale it, so as to evoke your inner senses for better absorption.

Ever since the 7 Haven Chakra holistic therapy had been introduced by ADONIS a year ago, the Chakra essential oils have been selling like hotcakes. Alas, there wasn't any left for me, instead I got a bunch of their in-house skincare products! I shall introduce them in a future post.

ADONIS OUTLETS:
- Ang Mo Kio 6455 3255
- Bedok 6444 3033
- Bukit Gombak 6764 6606
- Jurong 6563 6066
- Lucky Plaza 6235 6566
-Tampines 6757 3078
- Vivo City Harbourfront 63769525

ADONIS is offering 5 of my readers to enjoy this special therapy, valued at $280! Other participants will also get to try this stress-relieving treatment at a special introductory price. So stay tuned NEXT WEEK!!!