Please note: I have already reviewed the Maybelline AngelFit PoreZeroBase primer; this is merely a comparison with SANA Natural Resource Treatment Base.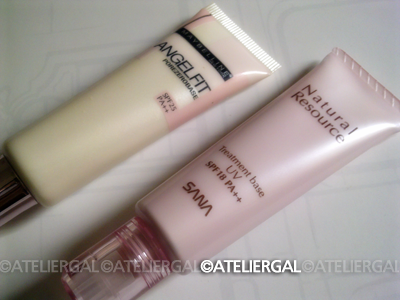 SANA Natural Resource Treatment Base UV SPF 18 PA++
As mentioned previously, SANA's range of Natural Resource products are formulated for sensitive skin. Even so, they are suitable for all skin types.

Killing two birds with one stone, this base primes your makeup and treats discoloration problems using the gentle treatment effect.

The gentle treatment effects refers to the Rose Water present in this makeup base. Often used in aromatherapy, Rose Water is used to treat acne and skin irritation. The rose water is distilled and extracted from flowers which are reputed to have the sweetest aromal.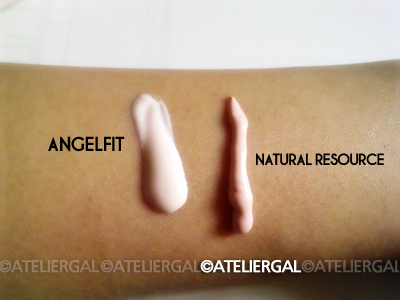 While Maybelline's primer has a runny texture and can be easily blended, Natural Resource's product is more of a drier formula, and proved to be a challenge trying to get it absorbed into my skin. It leaves a sticky residue both on my face and fingers, and takes quite a while for the feeling to go away. This is not an ideal situation to pile on more products - foundation, concealer etc.

The former has an iridescent, creamy light pink color and is relatively fragrance-less, NR's base is of a candy pink, similar with its packaging and has a mild rose scent. Angelfit provides decent oil control and gives my skin a dewy finish, NR on the other hand is less than ideal unfortunately. The sticky situation has already proven a handful, doesn't blend in properly and doesn't do a good job either with its oil control. Barely an hour and I've already started blotting my T-zone. BOO!

As if on a winning streak, Angelfit trumps NR with SPF 25 over the latter's SPF18.

Rating: 2/5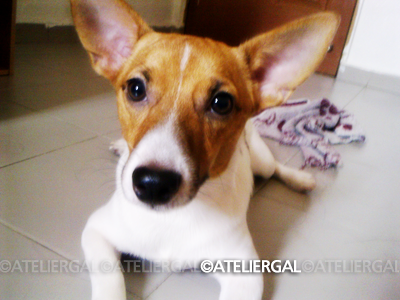 My friend commented that Milo has a protruding 'target board' nose which probably explains why he's NOSY ALL THE TIME. Let me know what you think (lol)