FINALLY! KATE Cosmetics have finally made their way to our sunny island. This authentic Japanese brand was started in 1997, which follows the concept of not following conventional trends but has its own set of ever-evoloving urban collection closely attuned to fashion.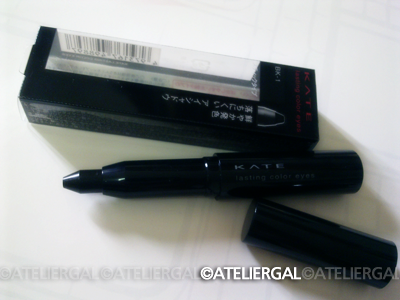 Lasting Color Eyes in BK1 (shimmery black)
These are eyeshadows in a stick aka eye crayons, ok I made up the name but you get the general idea. The pigments are moderate with adequate shimmers. I'm guessing that the forumla can dry up overtime, as I couldn't get the gold shade to swatch properly while at the store.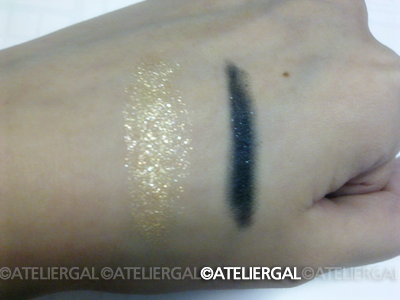 The formula is smooth but needs some 'persuasion' to draw on your lids, compared to kohl pencils. Kohl pencils are generally dry and I don't like to pull nor drag my eyelids when using them to intensify smokey makeup. But the Kate crayons do not 'spread' easily, especially on oily lids. I normally dust on loose powder to absorb excess oil, so try it .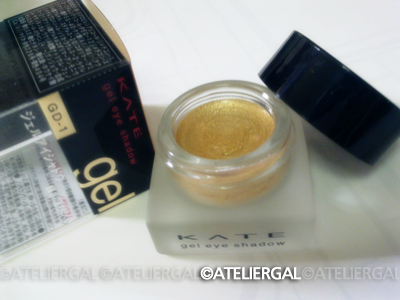 Gel Eyeshadow in GD-1 (soft, shimmery gold)
I got intrigued by these gel eyeshadows when I discovered them 2 years ago, and was excited when I heard they will be brought in. They were released as part of their 2008 Holiday collection, if you must know.

The shadows are of a typical soft mousse texture, very much like boink-boink jelly pudding (lol) It's housed in a frosted, squarish jar, very nice packaging I must say!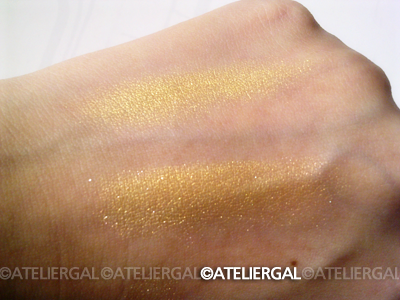 (Top - the "pudding;" Bottom - enhanced gold eyeshadow with "pudding" as base) The formula dries up and sets in quickly, but doesn't budge nor creases. I love the iridescent, subtle shimmer and metallic finish and use it as a base to enhance colors for more depth. It is blendable, and doesn't leave glitters all over your face.

This product reminds me of Lancôme Ombre Magnétique which is a gel-like shimmery shadow and will be in stores this August.