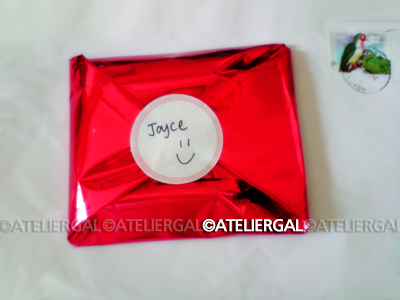 Earlier this week I was sent some Lip Smackers, check out the pretty♥package!!
It's so personalized that it really put a smile on my face, even though it's just a simple sticker with your name on it. Little things like this really brightens up my day =)

Rolly Lip Smacker - Coca-Cola Vanilla (S$7.90)
I'm loving the metal rollerball silhouette, which dispenses just the right amount of the product on my lips. Plus I love the nice cooling effect too. The formula is non-sticky nor too oily; leaves this soft subtle shine on my lips. This Smacker smells exactly like the drink although it doesn't lingers on your lips for too long. The taste is moderately sweet so I tend to lick my lips more often than usual. You know, the more you lick your lips, it tends to get dry? This doesn't dry out your lips; its moisturizing but I can't help but feel its slightly oily at the same time.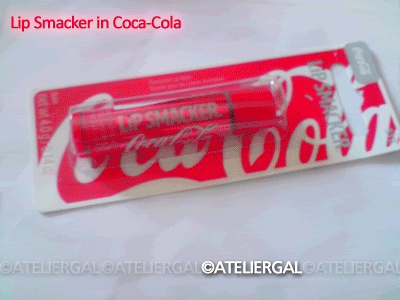 Lip Smacker in Coca-Cola (S$4.90)
The Classic CoCa-Cola flavor that smells and tastes just like the beverage. But the taste isn't overpowering; think of it as Coca-Cola but without the fizz. It is just as moisturizing as the Rolly Smacker, but I don't like the oily feel on my lips. The Cola shade doesn't show on your lips, but when you wipe it off with tissue, you can see a slight tinge of brown.

I tend to finish my can of Coca-Cola fresh, with the drink still fizzy with those soda bubbles popping. Why, because I can't stand the stale smell, which happens when it runs out of fizz. The same thing happens with the lip balm, when I finally resist the urge to lick my lips. When I scrunch up my lips to smell it 20 minutes later, it reminds me of that stale, leftover Coke. =(



Liquid Lip Smacker in Coca-Cola (S$6.90)
I call this the Coca-Cola lipgloss, which is my favourite out of the trio. It is such a small tube, like half the amount of liquid, when compared with the Rolly Smacker. It has the same moisturizing properties, but somehow it has the right consistency for me. When the taste eventually evaporates, it leaves my lips soft and smooth.

I've been using these Lip Smackers for a few days and now my lips smell like Coca-Cola that I don't even need to drink the beverage anymore. This is good news if you are trying to cut down on sugar. Also, they do a wonderful job at hydrating your lips so that they look good even after the product is long gone.

The Coca Cola range will be launched exclusively at all Guardian stores from 10th June 2010. I can't wait to pick up the Orange flavor☆