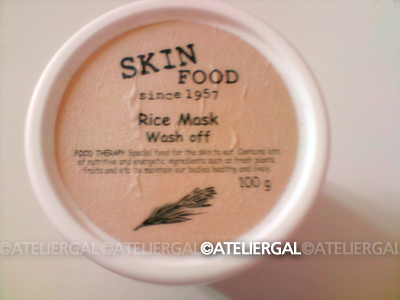 Skinfood Rice Mask(Wash off)

Rice not only gives plenty of moisture but also brightens your skin. This exfoliating wash off scrub mask with minerals, vitamins and gamma oryzanol, feeling as real rice lifts off any excess dirt and oil leaving skin smooth and clear.

Directions for use:
Apply evenly after cleansing. Avoid eye and mouth area. Gently scrub and wash off with lukewarm water after 10 - 15 minutes.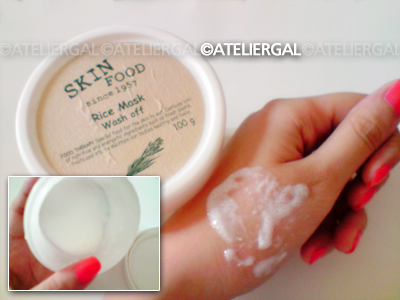 As I recalled, I bought this on June 1st, 2009 (lol)
I know it took me forever to review the products that I'd bought, and my procrastination has caused things to pile up. What really prompt me to finally post this up, all thanks to the PMS bitch! Ahahaha!!

These couple of days, I had a bad breakout as my hormones took over, thus my skin has turned dull. Thank heavens, most of the zits on my chin are starting to dry out, though there's a few stubborn ones that refuse to budge! But that can be easily dealt with.
With all the "Aww..." going on about my skin condition, naturally my skintone has turned dull. So yesterday afternoon I decided to use this rice mask, in a bid to finish it all once and for all! Usually I apply on the mask and use the tiny rice beads to exfoliate, and then leave it on for 10-15mins.

And you know what, it actually works as an instant perk-me-up! True enough, when I washed it off 15mins later, I looked RADIANT in the bathroom... no less☆ I love the creamy texture and the sweet, distinctive smell.

Rating: 4/5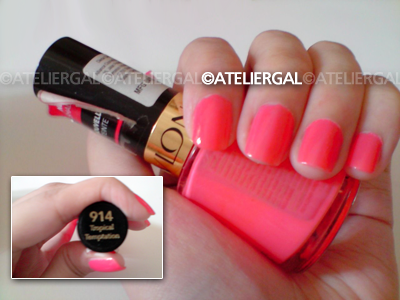 Revlon Nail Enamel in Tropical Temptation

This is another one that I had bought... around the same time too (lol)
I have been looking for that perfect neon pink shade but having searched high and low, I CANNOT FIND MY IDEAL COLOR!!

Now, I'm a little bit confused. When I got this, it looked somewhat of a neon pink, so I settled for this polish. Then for a time, it suddenly looked coral to me. Even the official description states that it is a coral color, perfect for the (last)summer. So when I applied this last night, it looked HOT PINK! I'm making this sound like a mood-changing polish, aren't I?

Nonetheless, I really really love the color, be it pink or coral! The problem is, its extremely tricky when it comes to application. Normally I apply 2 coats with other nail polish, but this one... I have to settle for 1 thick coat and then carefully 'spread' them out. Actually, 1 coating is enough, see how vibrant it looks?

Rating: 3.5/5