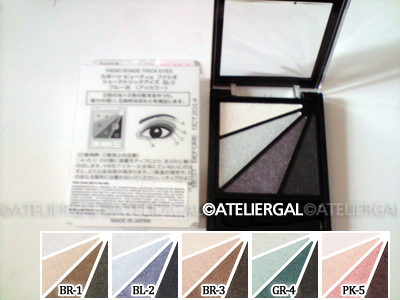 ---
The birth of a new eye color palette that creates amazingly intense eyes with gradation; rich, wearable hues created through a quartet of silky pigments.

- Eye color that creates amazingly intense eyes through the combination of two light and two shade colors.
- A light, weightless texture that stays fresh all day.
- Highlights the shimmer of pearl using highly translucent powder.
- Includes large and small specialized tips at either end of brush.
- Fragrance-free.
---
Fasio's Spring 2010 collection presents Shadow Trick Eyes eyeshadow quads that comes in 5 different shades, each containing 4 powder colors from light to dark in typical Japanese graduated color scheme.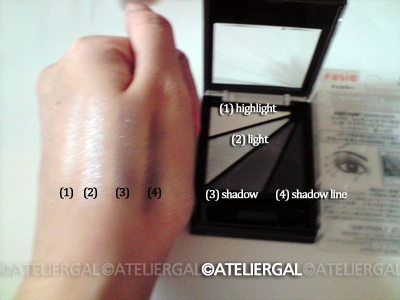 The 4 shades each consisted of a slightly different texture: the 'highlight' shade is smooth with a soft pearl glimmer while the 'light' color has a more shimmery and sheer finish. The 'shadow' shade is semi-metallic and the 'shadow line' is matte.

Although the swatches don't look too pigmented, but the colors are buildable. I got this in blue, the 'shadow' shade has a strong purple tone☆ Comparing with the ZA Dramatic Eye palatte reviewed previously, this one wins hands down for its blendable and smooth textures. Plus, even without using an eye primer, the colors lasted for 6 hours before showing signs of creasing.

Rating: 4/5

Disclosure: I paid for this product and in no way was my review influenced by the distributor/manufacturer.