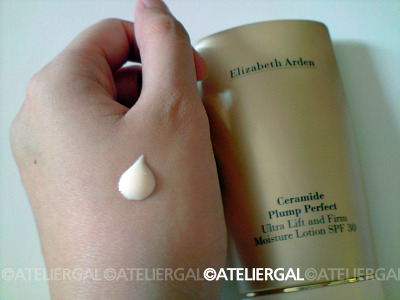 Elizabeth Arden Ceramide Plump Perfect
Ultra Lift And Firm Moisture Lotion Spf 30
---
Experience next level ceramide plumping benefits with CPT technology (cellular plumping technology) and SNAP-8, a new peptide, and collagen-supporting naturally-derived extract which acts as a double dimension skin plumper. With continued use, you'll notice your skin will appear smoother, firmer, visibly relaxed and revitalised. With broad spectrum UVA/UVB SPF 30 it also helps protect from the ageing effects of the sun.
---
Before I begin to rave how much I love this moisturizer, let me explain why many popular anti-aging products contains Ceramides.

Like the mortar that holds bricks together, Ceramides are essential lipids that strengthen skin's resistance to the influences of the environment and natural aging that causes loss of moisture, roughness, fine lines and wrinkles.

This product caters for mature skin. Although I'm still relatively young, prevention is key! Initially I meant to pass this to my mother but she declined so it's up to me try out this firming lotion.

After a disappointing trial with the Pore Refining Gel from the brand's White Glove Extreme Skincare, I was worried this lotion will not go well with my skin, but surprisingly, it fitted my skin type perfectly!

It takes a while to adjust to the slight greasy feel of the product as it takes around 8-10 minutes to completely sink into my skin. Once fully absorbed, it leaves my face very well-hydrated and feels like baby skin - very smooth and supple. I absolutely didn't feel like I had used any moisturizer at all! Despite the hot weather lately, my face didn't show any sign of oiliness until the 7th hour.

I could walk my dog in the afternoon doesn't scare me one bit as the broad spectrum of SPF 30 helps protect from the aging effects of the scorching sun.

On the days when I opt to use powder foundations, I noticed the area between my cheeks and mouth would crack(!!) when I smile. So I tend to emphasize on the particular area, sure enough I notice the surface lines diminishing after 2 weeks of usage!!