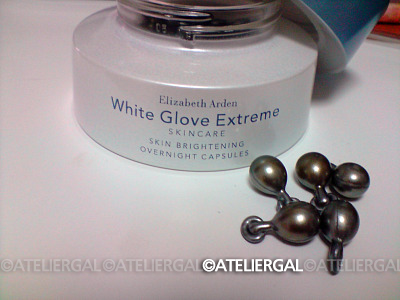 Skin Brightening Overnight Capsules

Previously known as the Fortifying Capsules from the White Glove Skincare, this is a special night time treatment which helps strengthen skin's appearance for a smoother, firmer look.

Sealed for freshness in each capsule contains a pure form of Vitamin C that has shown to control melanin production, accelerating the replenishment of skin's natural collagen levels.

This skin brightening treatment from the relaunched of the White Glove Extreme Skincare line is one of Elizabeth Arden's Star Products. With good results to boot!

I use this treatment every 2 nights, after cleansing, toning and applying eye cream. The serum penetrates into the skin within seconds and leaves my skin fresh and taut without any greasiness. I really love the velvety feel of the product, however, like its predecessor, it tends to flake when I apply on a moisturizer afterwards. One thing to note the difference is that this re-formulated treatment doesn't leave that dry patch on my hands after application.

The smell reminds me of potato chips!! I can't help but take sniffs of it every time I use it (lol) Plus, this treatment seems to have even out my skin tone. Bye Bye uneven brown discoloration!

For daytime treatment, I highly recommend the Skin Brightening Day Essence!!

Rating: 4/5

Stay tuned for Part 3 of the EA White Glove Extreme Reviews

Disclosure:The products mentioned in this entry were sponsored by Elizabeth Arden Singapore. In no way was this review influenced by the company, nor accepting any form of payment.