Clarifying Foam Cleanser

The cleanser is of a foamy solution which saves me the trouble of mixing in water to create a foam. I like to leave it on my face for 5 minutes as it seems to brighten up my skin faster. Prior I had tested this method on my hand and the results were evident. The sweet scent is not the least bit overwhelming and the cleanser doesn't strip off the natural oil from the skin.

I really love the design of the pump - it is easy to control the amount of solution you need per face wash, which makes dispensing a breeze.
It only takes 1 pump to wash your face, so a bottle goes a long way!

Rating: 4.5/5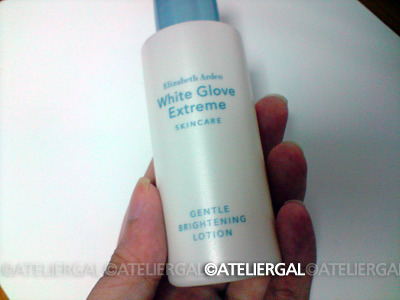 Gentle Brightening Lotion

The toner has a pleasant smell, similar with the cleanser. This alcohol-free formula removes down to the last traces of dull, dead surface skin cells, which really impresses me especially on the days when I don't even wear any makeup. I could see the lingering gunk on my cotton puff, eww! (lol)

Rating: 4/5




Brightening UV Protector SPF 50 PA+++

According to the press kit given by Elizabeth Arden Singapore, this UV base is non-oily and non-shiny. However the product doesn't sit well with me at all. It takes a while for my combination skin to absorb the sunscreen, and my face would start to shine 2 hours later, making my skin feel greasy. After applying, it leaves a sticky feel on my hands. The worst came when my face broke out after using for a week.
Rating: 2.5/5

Stay tuned for Part 2 of the EA White Glove Extreme Reviews

Disclosure:The products mentioned in this entry were sponsored by Elizabeth Arden Singapore. In no way was this review influenced by the ompany, nor accepting any form of payment.