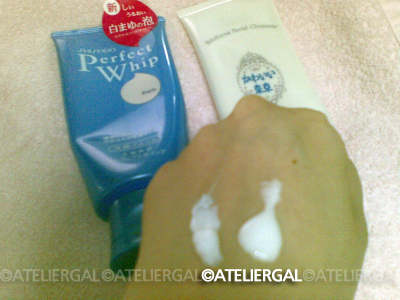 Kawaii Tokyo Brighten-Up Wash Champagne Holiday

A little goes a long way, a pea-size of this creamy cleanser is enough for each useage. I particularly love the rose scent which makes me think I'm drinking rose syrup everytime I wash my face (lol)
My face feels moisturized & refreshed after usage, and gives me an instant brighten-up effect. Although the effect wears off after a while, but it does help to lighten my scars which I'd gotten from a botched facial some years back. With the steep price of S$25, I won't be re-purchasing it anytime soon.

Rating: 3/5


Shiseido Perfect Whip Cleansing Foam
---
Thiscleanser forms as a soft and rich peak, acting as a "cushion" toprotect the skin from harsh cleansing motion. Meanwhile, it penetratesinto the pores to clean impurities and excess sebum. Skin becomesclean, soft and hydrated. Contains hydrating agents, including amino acid, forsmoothing and maintaining the natural moisture of the skin.
---
As I use a waterproof liquid foundation often, I need to depend on effective cleaning agents to avoid clogging my pores. So after removing all makeup with Cleansing Oil, the Perfect Whip works perfectly well in washing off any remaining residue. Again a little goes a long way - with just a pea-size amount of productand water, it foams up easily and enough to cover your face and yourneck.

My cleansed skin feels more hydrated, and the great thing about this not-too-fancy-packaged product is that it does not strip off the natural oils in our skin. Which means the skin doesn't need to produce excessive amounts of oil/sebum to compensate for the oils lost during constant cleansing. Plus, it is so cheap.

Rating: 4/5
Disclosure:The product reviewed in this entry is based on the opinions &experiences of the author. This product was bought by the author and in no way was this review influenced by the company, nor accepting any form of payment nor benefit.