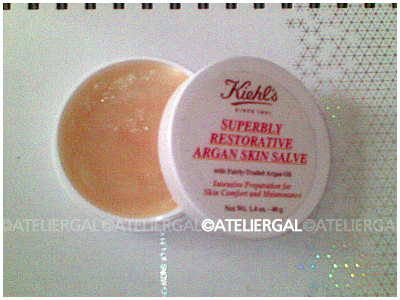 Kiehl's Superbly Restorative Argan Skin Salve
---
Thisintensive skin salve is formulated with Moroccan Argan Oil and a blendof Eucalyptus, Patchouli, Orange and Cedarwood Oils to help soothe andreplenish dry skin, minor skin imperfections, and to soften cuticles.May also be used on hair to smooth split ends and fly -aways, leavinghair feeling softer and more nurtured..

Key Ingredient: Eucalyptus Extract / Eucalyptus Oil
EucalyptusExtract is an aromatic oil native to Australia. It has been regarded byboth Aborigines and European settlers as a general cure-all in herbalremedies. The pale, volatile liquid is taken from fresh eucalyptusleaves, and the most important component of the liquid is Eucalyptol.Used to refresh skin. Produces an aromatic odor.
---
I'd got this along with the Body Lotion a while back, but got put offby the smell so they sat on my shelf, collecting dust. To be fair, Idid apply on my dry lips but the oiliness grossed me out.

Untilrecently, I've developed a love for this pomade-looking substance!Apply a tiny amount and it soothened my dry, spilt ends and tamedflyaways perfectly, WITHOUT leaving my hair oily!

Usethis only after styling, OK? As for the body lotion, I'll probably giveit away since 1) I don't like the smell of the Eucalyptus Extract 2)Ilove my Satsuma stuffs!! Any takers? (lol)

Rating: 3/5

Disclosure:Theproduct reviewed in this entry is based on the opinions &experiences of the author. This product was a prize won through a contest held by a local magazine and inno way was this review influenced by thecompany, nor accepting any form of payment nor benefit.
I would like to extend a big Thank You to everyone for participating in my first ever Giveaway! I've received a total of 36 entries and the 3 lucky winers are: 1) Marie S. 2) Susan Quah 3) Heather Malinski

Ladies, I will send out your prizes (including samples from BRTC and a facial sheet mask each!) within the next 2 weeks, so do email me your mailing address ASAP.