I was about to post up a review today but some ignorant person pissed me off in the morning and I had to scrape everything.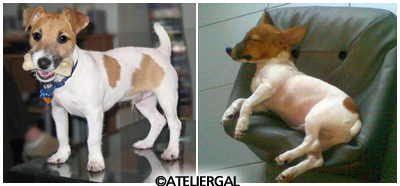 This morning, an Aussie accused me of docking of Milo's tail for vanity. FOR MY VANITY! Apparently I'd trimmed off his tail so that he will look good in my photographs. WHAT THE FUCK IS THIS NONSENSE?!

Obviously, the Jack Russell on the left isn't Milo, I just want to show the length of an undocked tail, and Milo's.
I'm more hurt than angry by her ignorant words! Many dogs are docked at birth, BEFORE any potential parents have any input. Milo's wiggle was docked off before he arrived at my home, around 2months old. So how was I to know what ordeal he went through from birth to the time we met. Seriously, I can't even bear to picture that horrendous scene in my head! (つд⊂)

4th day into the New Year and I've already some wacko barking up my tree. Throw some confetti!! (;`Д´)≡⊃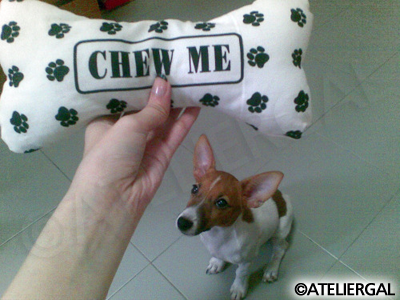 Anyway, I bought a new chew toy for Baby, one that squeaks which he likes. But he bit into one cotton and headed straight to the stuffings inside within 15 minutes. (ーДー;)ヾ

---
I've been included by Dee to do a "Once Upon A Time" tag:

1. Post a picture from your childhood (less than 13 yrs old).
2. Write about the picture.
3. Tag your friends and readers.
<-- Click for a bigger resolution
Taken at a theme park, here's me at 6 years old sitting in a bridal sedan. Now all I lack is a hunk (lol)

Tagging: Lane, Blaire and anyone who are interested.