Happy New Year, everyone! Another decade has gone by, I hope the Reaper takes a holiday, maybe around the universe in 80 years! (lol)
I saw 3 tributes to Michael Jackson on the first day, what a depressing start for 2010. 6 months seems like a very long time... (´・ω・`)

2009 didn't quite end on a bad note. Yes I've met and got stepped all over my people whom I'd regarded as friends but that's all in the past. As I'm gradually losing hope that people have evolved into heartless & selfish creatures, my losing faith seems to have rekindled itself as new friends(you know who you are!) sprout out like rain into my desert-like life. Very dramatic, I know~ (^_^)
So these 2 days I've received loads of emails askin' me about my New Year Resolutions. Erm, I've never been one for resolutions, mainly because I can never keep them. So why wreck your brains thinking of new ones each year, right?

But for the sake of answering the question: I will stop moping around and get over those fair-weathered friends, stop taking initiatives etc. OK I failed the last one because I did that this morning, but that was before me coming up with the list. So it doesn't count and I hope it will not happen again. Notice that I said "hope" instead of "promise." (`~´)
It's not fair to count on me to do the "Keep In Touch" part. As a friends, you have the duty to do your part unless I'm there as your last resort when your other cool friends aren't free to hang out with you. So don't whine that I don't call, YOU NEVER DO IT ANYWAY!


Now comes my first (mini)haul for 2010!!! I'd read rave reviews about OLAY's White Radiance Intensive Brightening Serum, and decided to try it out myself. The bottle is gorgeous, isn't it? I have fair skin but somehow don't find myself gleaming with much radiance. The whitening masks do help but are just a temporary fix.
---
The key highlight behind this light gel-like serum is a highter concentraion of Niacinamide, which helps to in inhibit melanin transfer deep within the epidermal layers. In addition, increasing the cell renewal rate and improving skin moisturization are also key contributors to achieving CelLucent Fairness. Also, Niacinamide helps to increase epidermal skin cell renewal, allowing the older and darker skin cells to be sloughed off to reveal the fairer skin cells within.
---
Because of the New Year promotion, you can choose between 2 free gifts: Eye Cream($15.90) and a box of 5 Whitening & Soothing Masks(29.90) from the White Radiance range. It's a no-brainer, right?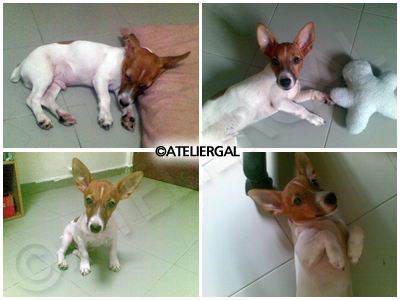 Milo has been oozing with cuteness these couple of days. Just look at his Signature Stare, KAWAII NEH!!! After greeting me, he likes to lay on his back, waiting for a tummy rub~ o(^-^o)
Yesterday, a beetle -the size of his paw- flew in through the window. Being a baby and never seen the insect before, he bit it and ran round the house, challenging me to catch him! It took me 15mins to coax him out from under the sofa, at the same time screaming about the disgusting act (lol) There was beetle blood on the floor too, GROSS!!

Well, at least I know who to turn to when there's cockroaches again. Nasty pests beware of the Almighty Milo!

Many thanks to all 36 participants who had joined my first Giveaway. I will announce the winners very soon. Also, I have many products to review, so do look out for them in my upcoming posts.

Enjoy the long weekend~.

Hugs & Kisses
~AG