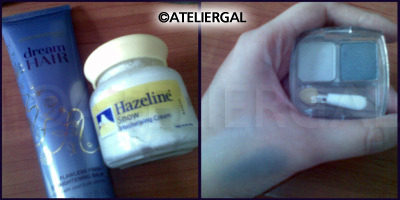 A while ago, my buddy, Dee, asked me tips on how to keep her skin hydrated despite the cold, dry weather. Hey girlfriend, get Hazeline Snow if this is available at your area. This product has been around for many, many years and Mum swears by it.

Because I have combination skin, my face will get oily in the afternoon after using it. But since the weather is pretty cool right now with the rain and all, my skin is lovin' it! It softens your skin and has whitening effects, okay I'm kinda fair so I can't see the difference (lol)

Hazeline Snow is also great for soothing pimples! Dab some snow onto the affected area and the next day, the pimple dries up! Oh, please keep the product in the fridge☆
I'm a huge fan of hair products by Charles Worthington. The shampoo & conditioner from the moisture-seal range is good! I also love the Hair Healer leave-in conditioner, a treatment product great for those with dry, damaged hair.

Couple of months ago, I'd bought the Flawless Finish Straightening Balm enriched with pearl & silk extracts from the Dream Hair range. It smelled funky & left my hair & hands really greasy, so I chuck it aside.

I had absolutely nothing to do on Boxing Day and decided to try it once more - L('▽')/ Raise your hands if you think using more conditioner is good for your hair. Think again!

The trick is to use a TINY amount and run your fingers through DAMP hair. Now my hair is silky smooth and the smell doesn't linger.

Lastly, SILKYGIRL Duo Eye Shadow in Smokey Spark. I was desperate for grey eyeshadows and this seems to answer my prayer, slightly.
It's not very pigmented but a slow buildup will do the trick. Matches the hoodie I wore today too~.


Let's find out what Milo's been up to as my baby is turning 4 months this coming Friday!

1)Found a perfect windy spot to sleep, and comes with a stool
2)Acting cute while under lockdown this morning, I shall not waver!!
3)Perfecting his splits, complete with a "See, I'm awesome" look~.
4)See that smirk? (。- -。)


I know many of you are busy deciding what to wear for your New Year parties, not to mention hair & makeup. Hopefully you'll find the Smokey Mink & Sultry Bedroom Eyes tutorials are of help.

As for me, those who know me long enough are aware of my annual New Year plans. Every year on 31st Dec, 15mins before the clock strikes 12, I would jump into bed and wait... for anything to happen.

You see, I sort-of believe that the End of the World will happen on this day, but not sure when. Blame the millennium bug, OK? At that time there were many speculations that something horrible will happen when we cross over to 2000, and WHAT IS IT?

I'm no longer spooked, instead it becomes more like a habit (lol)
But hey, if it really happens *touchwood* at least I will die in bed, better than being squashed & stomped on thousands of people on the streets, right? (^-^)v