St.Ives Hydroxy Masque (Peel Off)
Gentle Alpha Hydroxy. Removes impurities and gently exfoliates for smooth visibly healthy skin.

First of all, this is one messy masque! The texture is of a gooey gel that glides out of the pack the moment you open the lid.
Here's the fun part: Just like playing with glue, spread a thin layer and wait for it to dry completely, gently peel away and rinse off any residue.

My skin feels soft & rejuvenated but other than that, I don't see any dead surface cells & impurities being lifted when I looked at the peeled masque. It has a sweet scent of green apples but alas, this product has been discontinued. Thankfully, it takes a long time to finish, and I still have 85% left.

Rating: 2.5/5

St. Ives Apricot Scrub - Blemish & Blackhead Control
An oil-free gentle exfoliant that cleans pores and contains 2% Salicylic Acid that treats acne and stop breakouts before they occur.

I simply love walnut shell powder in my exfoliants because they are not harsh on my skin, yet remove surface dead skin cells effectively. Another plus point is that it doesn't strip off natural oil & moisture while scrubbing my face. I know some users feel that the beads are too rough, but the trick is to add sufficient amount of water or mix in together with your cleanser.

The apricot scent is absolute divine and I'm already on my second pack, using it twice a week.

Rating: 4/5

St. Ives Mineral Clay Firming Mask
Deep cleaning oil-free mask with kaolin clay that visibly firms and tightens, improving skin's elasticity for smooth & healthy skin.

The mineral clay effectively soaks up the excess oil, hence but this might not be suitable for those with dry skin. The mask acts like an alarm, my face starts to itch when it is time to wash off. But it leaves my skin firmer and cleaner.
However I scare my mom everytime I uses this mask because it's green which slightly reminds you of Jim Carrey in "The Mask" (lol)

Rating: 3.5/5

St. Ives Cucumber & Elastin Eye Stress Gel
Soothes instantly to minimize the efects of stress like lines, puffiness, and shadows.
This is my least favorite product from this brand. I've been using it for more than a year and it does nothing as described on the pack.
I see absolutely no difference on my eye bags at all!

So why continue using it? Well, it is very hydrating and prevents my concealor to cake up when I apply it under my eyes.

Rating: 2/5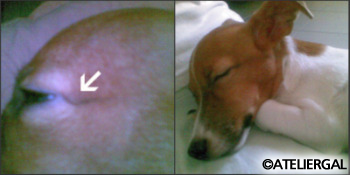 The other day I noticed Milo's natural eyeliners. It's so unfair, right? Why would dogs need that catdog-eye effect for? (lol)

Unless I'm about to wash my face, I never let him lick me except my feet. It's his way of showing his affection but I can't risk having breakouts. Here's the bad news: Milo's started to shed and now I have to be extra careful, leading me to wash my hands every now and then.

So I leave you now with a shot of Milo sleeping peacefully on my lap. Enjoy your weekend!