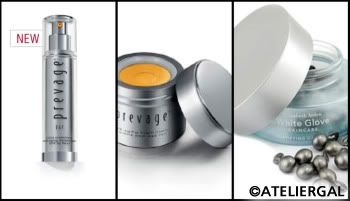 PREVAGE Day Ultra Protection Anti-aging Moisturizer
This SPF 30 PA++ day cream works perfectly well on my combination skin! I absolutely do not need to blot my face at all even after 6 hours. It doesn't take too long to absorb into my skin and the cream does not leave a sticky feel too. After using for a week, my skin is smoother and reduce the appearance of lines that are slowly starting to show on my face. Even better, my skin tone has been evened out, which brings me to my favourite product by Elizabeth Arden.

But before we do, I have to say that this moisturizer disagrees with my Laneige Primer. It keeps flaking but it goes well with my other primer...

White Glove Skincare - Fortifying Capsules
This treatment, containing a pure form of Vitamin C, feels very velvety and absorbed into my skin with ease. However it leaves a residue on my hands like touching flour with wet hands, a white patch appears when it dries up.

Along the right side of my face once had this brown patch, sure it wasn't noticeable but it really irks me alot! No amount of exfoliation could remove it but I believe PREVAGE Day Moisturizer helped in improving my complexion and the fortifying capsules further accelerated the treatment, making my face look brighter with a very healthy, natural glow.

Prevage Anti-aging Night Cream
This is more of a thick lotion than a cream, it takes a longer time to absorb into my skin, but still doesn't leave my hands sticky. Formulated like the Day moisturizer but more concentrated.

Prevage's night cream uses encapsulated and time-released Idebenone to fight the free radicals which cause skin to appear older, looser andless lustrous. Like I had mentioned earlier, Idebenone has been found to be a very potent antioxidant.

Further more, it also contains Mega Complex-A which is a blend of vitamins including a Vitamin A derivative, in short, is the only topical ingredient proven conclusively to reverse signs of aging, Lemon Peel Extract that helps with pigmentation issues and Vitamin E. Take Note that both Vitamin A & E are also antioxidant.

I have used other brightening treatment products, but none have produced results that are as obvious. Believe in the Elizabeth Arden slogan "Proof...not promises."

PS
I've always find the night cream to be extremely thick and takes a long time to sink into my skin. So lI mixed in a bit of pearl powder and it seemed to absorb the excess oiliness from my face!