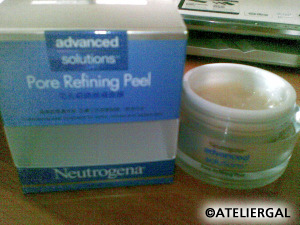 Neutrogena Pore Refining Peel brings you the dramatic results of a professional facial peel--without acid and irritation--to reveal smoother, fresher, more youthfully radiant skin in just one step.

With CelluZyme to instantly reveal fresher, more youthfully radiant skin. Dermatologists and skincare professional perform glycolic facialpeels to reveal healthier, younger-looking skin. Neutrogena helps youexperience these dramatic skim revitalizing benefits at home with the Advanced Solutions Facial Peel. This breakthrough, rapid retexturizer is proven safe for at-home use and contains naturally derived CelluZyme technology, which works with your skin's natural pH to gently revealnewer, fresher skin, immediately, skin feels incredibly soft and looks more youthfully radiant. Dermatologist Proven to: Instantly improvesskin texture, tone and clarify. Transform dull skin into vibrant, radiant skin. Smooth away the appearance of dry, fine lines.
Help stimulate surface skin cell renewal.

Direction for use:
Using this twice per a week, I smooth a thin layer over cleansed, dry face. Leave it on for 10 minutes. Before rinsing, I massage the skin with water to activate the microexfoliants. As the product may be drying forsome, follow up with a rich moisturizer.
--------------------
It does a nice job of making my skin look and feel smoother with minimal irritation. There's some notable flushing of the skin which indicates increased blood flow, with a slight tingling sensation.

I'm also using the toner from the Pore Refining rage containing Alpha and Beta Hydroxy Formula.
The former sweeps away dead skin cells and smooths over rough, uneven patches, while the latter penetrates deep into pores to visibly reduce their appearance for clearer-looking skin.

Some warning, the microbeads might be alittle harsh so if you have bad acne and don't wish to irritate your skin further, try Burt's Bees Pore-Refining Mask.
Rating: 3.5/5