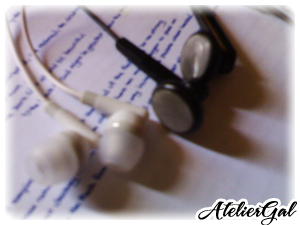 Mum got me a pair of white earphones~
( ゚д゚) ・・・
You're supposed to stick them into your earlobes?
Why did she get me these kind?!
I clean my ears very often, mind you.
It's just that I don't like the idea of sticking anything into my ears!
That's what Mummy always says when we were young.
So I gave it a little try but they keep dropping out (lol)
I still love my old-fashioned earphones.
(=´(エ)`)ノ



妈妈给我一对白色耳机~

( ゚д゚) ・・・

这...这不是得'插'进耳朵里吗?

她为什么买这种给我呢?!

先声明: 我是有经常清理耳朵的哦!
我只是不喜欢把什么东东'插'进耳朵里!
而且小时候妈妈都是这样教我们的呀.

不过我还是试了一下,但是耳机一直掉出来 (笑)
我还是中意我的老套耳机啦. (=´(エ)`)ノ