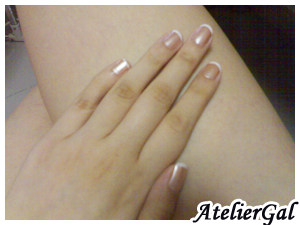 With white tips, don't my nails look different?
(*⌒―⌒*)))
It's been, maybe 2 years since my nails got the French treatment.
My hands were shaky during the first coating but I soon got the hang of it. Heck, I should do this more often, long or short nails. (lol)
Don't they look professionally done☆
I used to like applying L'oreal's "Twilight Blue" polish on my tips.
But the company don't produce that color anymore!!
\(≧ω≦)/



加了白色的底部,我的指甲是不是看起来不一样呢?
(*⌒―⌒*)))
已经2年没弄了法式指甲彩绘了.
搽第一层时,我的手不停的在颤抖...
哈! 我应该多弄一点,长或短指甲. (笑)
嘿嘿,看起来很像专业吧☆
我很喜欢用L'oreal的"Twilight Blue"搽在指甲的底部.
可是该公司再也没有出产那个颜色了!!
\(≧ω≦)/