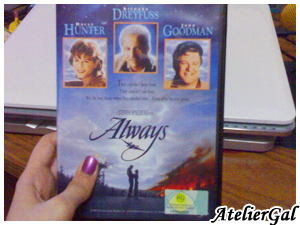 I saw this movie once many years ago and fell in love with it
Hmm... I remembered it was aired on a late Saturday night. (lol)

I bought the DVD months ago; was excited when I saw it in stores!
Why did it take me so long to watch it? (゚ロ゚)

Certainly a movie of my favorites☆
Starring Richard Dreyfuss; directed by Steven Spielberg.


好几年前看过这部电影那么一次,让我深深地着迷♡
嗯嗯... 我记得是在某星期六午夜播映的. (笑)

这DVD是几个月前买的;当时在店里看到便非常兴奋,终于买到了!
但我为何等到现在才看呢? (゚ロ゚)

这部电影真的是我的最爱☆
由Richard Dreyfuss 主演;Steven Spielberg 执导.