目前日期文章:201103 (8)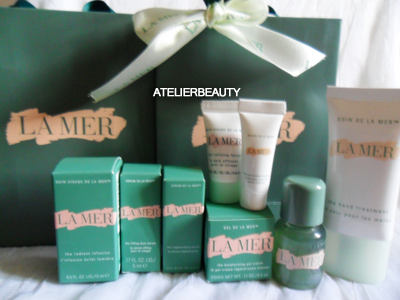 Late last month I'd attended a workshop organized by LA MER - it was an extremely informative 2-hour session that focuses not just on the main topic of caring for your eyes but also a hands-on experience using their products as a full regime. I definitely got more than what I had paid for; an exciting new technique to reduce my dark circles and in-depth understanding of their products.

This post is an introduction of products that I currently own albeit in sample sizes. If you have been to their counters, you would have been told to be placed on the waiting list to obtain product samples if unavailable. This is because the Miracle Broth is based on bio-fermented marine algae, a process that uses natural ingredients that lasts 3-4 months. Retail-sized products are also available in limited quantities thus don't be surprised if you have to wait up to 2-3 months* to get the coveted creme in your hands. (*According to my friend)

These sought-after LA MER workshops aren't held very often. I had a brief chat with the Training Manager Cecilia Tay who was pleasantly surprised at the amount of new faces shown up that morning. With limited seats offered at a first-come-first-served basis, all slots were filled up mostly by their loyal base of customers. Cecilia jokingly remarked that she was excited to relate the formulation of the Miracle Broth because her audience that day were relatively new to the brand.

Besides gaining extra skin care knowledge, each participant were presented a doorgift consisting of 2 deluxe-sized products.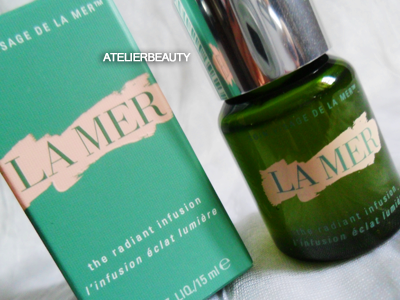 LA MER The Radiant Infusion
This pore-minimizing product contains ionizing sea salts that energize the complexion. With regular use, it restores clarity by brightening up dull skin. It is meant to be used before your serum, so as to receive the beneficial ingredients from your forthcoming products. I had experienced some flakiness while applying it on at the workshop, thus I recommend putting on a hydrating base prior.


LA MER The Lifting Face Serum
Similar to the Radiant Infusion, this serum also restores clarity and brightness to the skin but is further enhanced with the inclusion of the exclusive Blue Algae Life Ferment. The gel-like consistency helps to strengthen and improve skin elasticity for a smoother, more radiant complexion.

Last week I received a letter from Cecilia who had read my write-up and prepared a token of appreciation for my effort. It was an incredibly kind gesture but I was more excited that my article was well-received. Upon collection at the Takashimaya counter, the staff got all hyped up when I introduced myself. Hearing that their customers enjoyed reading my blog - that feeling was priceless.

Being a Harry Potter nerd, my intention was to have my post magically transformed into Dumbledore's Pensieve, whereby you would be transported to the event venue and learn all the beneficial information as I did.

Anyway, I like the ribbon that symbolizes warmth and thankfulness, because sometimes when people give you something, they just chuck it in a bag. It may look insignificant, but such small details make me mushy.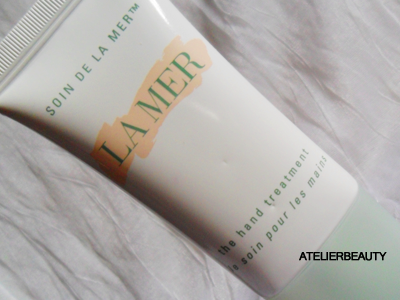 LA MER The Hand Treatment
To be frank, I'd initially underestimated this hand cream, thinking it's like any ordinary product available in the mass market, formulated with some fancy ingredient. Boy was I wrong! It's immensely emollient and the exclusive Skin Brightening Complex improves skin tone and clarity.

I have only squeezed out a dollop to try on the back of my hand and this clarity, albeit subtle, is something my other hand creams can't do! Unfortunately my nose is blocked at the moment thus can't comment on the scent.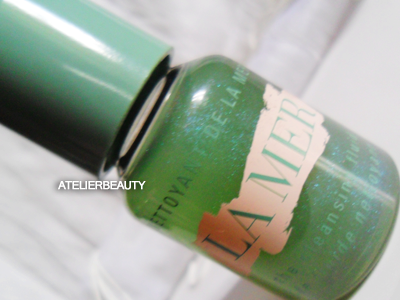 LA MER The Cleansing Fluid
At the workshop where we had to remove our makeup, this product was recommended particularly for those wearing waterproof mascara. I had the Elizabeth Arden Ceramide Mascara on that day which takes quite an effort to remove sometimes but the Cleansing Fluid had the capability to remove the stubborn formula.

Moisten 2 cotton pads before pouring in 2 pumps of the solution, and then placed on closed eyes. Make use of your palms to allow the Fluid to dissolve the mascara before gently wiping it off. As an extra precaution, dab a cotton swap onto the Fluid-soaked pads to remove any missed product on your lashes.

Apart from being the bane of stubborn makeup, this product deeply cleanses your pores and dissolves sebum. Made up of precious marine oils with highly restorative pearl powders and sea algae essences, the formula helps to nourish and condition the skin without stripping its natural moisture.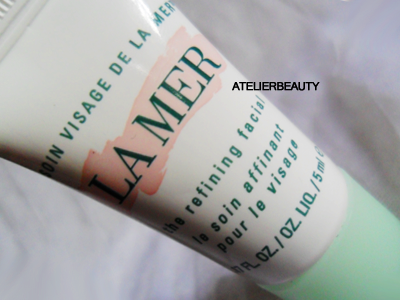 LA MER The Refining Facial
This refiner contains almost 2 carats of pure diamond powder and polished sea quartz that exfoliates the skin. It doesn't feel too harsh nor too soft; just adequate to scrub off impurities yet gentle at the same time. Smart minerals present in the product is able to use sure of the massaging action by converting it into energy to stimulate blood circulation.

As a treatment mask or as an instanteous boost - simply squeeze out a generous amount and slather on the skin evenly for a good 10 minutes leave-on before massage-wash for a more radiant complexion.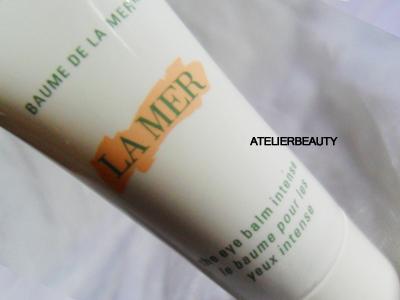 LA MER The Eye Balm Intense
Fortified with the potent concentration of the famed Miracle Broth, the Marine De-Puff Ferment diminishes the appearance of lines and wrinkles, while the Lifting Ferment lifts and firms the areas around the eyes. It comes with a silver-tipped applicator that cools the skin to help stimulate circulation and ensures the product to be absorbed effectively for that smoother, rejuvenated appearance.

This product goes in hand with their unique Acupressure Eye Massage, a technique that aids the de-clogging of the areas where dark circles are formed and helps to lift and firm where the skin has sunken.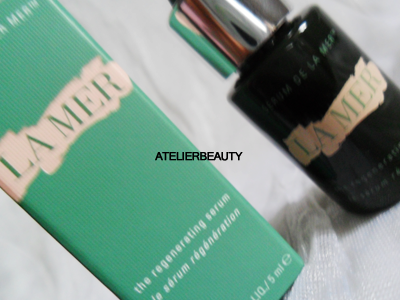 LA MER The Regenerating Serum
A Botox alternative, the Regenerating Serum lifts and firms the complexion and further repairs tissue under scars. The high concentration of the Miracle Broth, Regenerating Ferment and Marine Peptide Ferment boost the production of "youth proteins," collagen and elastin. The appearance of fine lines, wrinkles and pores will be visibly reduced with regular usage.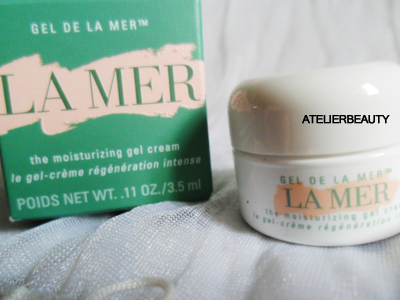 LA MER The Moisturizing Gel Cream
The Moisture Collection comprises of 3 variations of the legendary Creme de la Mer - the Moisturizing Lotion is a lightweight version of the Creme whereas the Oil Absorbing Lotion is oil-free.

The Moisturizing Gel Cream is the ultralight edition that is as emollient as the Creme with the same unique sea kelp structure. The gel texture offers the same hydration and is recommended for those with combination skin.

Unless the Creme with its thick consistency, Gel de la Mer saves time and product wastage since it isn't required to be warmed to activate the Miracle Broth. This penetrates better into my skin than the Creme and is suitable for my combination skin under the humid weather.

I normally would not do reviews on sample-sized products, but many of you have requested for them so I will try to post my opinions instead. I will also post up a step-by-step of the Acupressure Eye Massage in due time.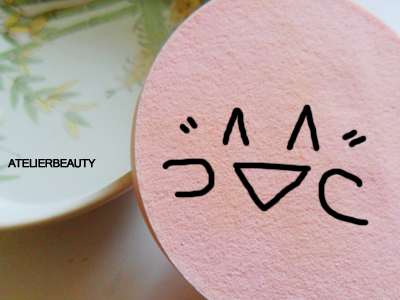 For those who wear makeup on a regular basis, all the more you need a proper cleansing routine to remove impurities thoroughly. Slapping on expensive or highly-raved cleansers ain't going to cut it. Sometimes the best tool is one's own fingers but they can't reach out to the deep crevices in our faces.

The cleansing puff is inexpensive and the blend-able sponge is able to remove impurities from tricky areas especially around your nose where sebum and powder tend to accumulate easily.

Some like to pour a dollop of cleansing solution on the sponge and build up a foam from there. I prefer to foam by hand, apply it on my face evening and massage for a good 2-3 minutes before scrubbing off with the tool. I especially like to use this method with my exfoliators, because it removes bead residue more effectively.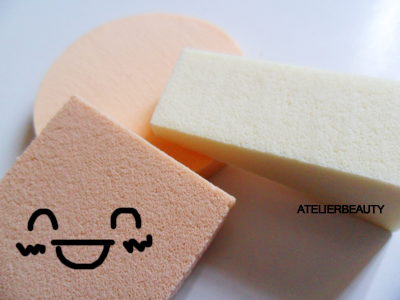 Normally I would use a brush to apply foundation then a sponge to blend for that airbrush effect. But I observed that using these makeup wedges to apply foundation and concealer saves time with no streaky marks. Blending concealer especially is a breeze.

These tools come in assorted shapes but I'm biased to the ones with flat planes because they blend better. Plus they can be re-used over and over, but just remember to wash them after each use. You don't want to keep re-applying bacteria on your skin, right?

CLARINS Instant Smooth Line Correcting Concentrate - S$45
Building off the success of the Instant Smooth Perfecting Touch primer, CLARINS introducd an updated formulation that is enriched with line-repairing peptide, Dermaxyl.

The Acaica Micro-Pearls act like sponges and expand to fill in and smooth away lines, pores and imperfections; high concentration of Soft Focus Pigments reduce the appearance of wrinkles and enlarged pores. With the addition of Dermaxyl, it helps to repair age-related damage.


The product comes in a twist pen with a silicone tip that dispenses the serum, making everything fuss-free. I apply mainly on problematic areas such as the lines underneath my eyes, nasal folds and around the sides of the nose. While it did nothing on deep lines, the silicone texture does settles into the imperfections and smooths out my skin. The hydrating formula prevents any flaking occurance; it allows my concealer and foundation to stay on longer.


I also use it on non-makeup days as a treatment product, but my laugh lines and the deeper ones under my eyes remain pronounced. On the whole, it works better as an optical diffuser thanks to the Soft Focus Pigments and prevents my imperfections from looking obvious. It does improve my complexion as a cosmetic filler but for the repairing aspect, I do not see much of an improvement.

EDIT
I was complimented that my skin looked Photoshopped while at a CLARINS luncheon earlier this afternoon. Besides using the Extra-Firming Foundation which will be reviewed soon, I gotta give props to this nifty product. I strongly believe it made my skin looked air-brushed. A PhotoShop savior! Unfortunately I have been under the weather for the past few days thus no photos...

Available in 2 sizes - 50ml for S$95; 100ml for S$115
I wear Pretty by ELIZABETH ARDEN very often, for its fragrance complies with my personality. It has a light floral scent that exudes spring, fresh femininity, perfect for everyday wear.

Hot(pun intended) on its heels is another well-received parfum Pretty Hot - one that can turn a demure girl to feel sensuous and alluring by bringing out that unmistakable sexy confidence that shows off her mesmerizing femininity.


Elizabeth Arden is on top of the trend by incorporating the hottest color of the season - Grenadine which is a fusion of red and orange. The tinted bottle resembles the shape of an apple that symbolizes temptation.


I recommend wearing Pretty in the day or on innocent dates, and save Pretty Hot for the evening. Why? This excited Eau de Parfum spray contains Belle De Nuit that only blossoms at night. It appears like a contrast of fiery red petals like fireworks that gives off a floralcy with a kaleidoscope of spices and the lush, juiciness of dark red currants.


How fast time has flown, I have been using the White Glove Extreme skin care range for close to a year. Formulated in Asia for Asian skin, the regime contains a potent combination of skin-perfecting and whitening ingredients that allows the skin to glow with continued use, and protects against harmful external aggressors.

Powerful Combination
The Emblica C Complex is the combination of the Indian Gooseberry that's been used in traditional Eastern medicine, and a Vitamin C derivative that controls melanin production. The WGE formulation is further enhanced with the naturally-derived Marine Mineral Extract called Cellulosomes Eryngium for its ability to adapt to harsh conditions. This sea holly plant is able to galvanize its inner defenses to bloom and thrive despite living on the ocean's edge with severe surroundings such as sun exposure.


White Glove Extreme Brightening Spot Corrector - S$88
This latest addition to the WGE family specifically targets existing pigment spots and discolorations by evening out and brightens skin appearance. This product can be used several times a day, but bear in mind to apply spf over the applied area. Unfortunately, it will not lighten acne marks nor scars.
Pretty Hot and the Brightening Spot Correctior will be available at all Elizabeth Arden counters from end-March 2011. But there will be an Exclusive launch at Robinson Centrepoint taking place 10th-16th March, starting this coming Thursday!


GIFT WITH PURCHASE
Spend minimum of S$180nett in a single receipt to receive this 7-piece gift:
- Choice of pink or silver clutch
- 5ml PREVAGE Day Moisturizer [REVIEW]
- 3.2ml Ceramide Gold Ultra Restorative Capsules for Face & Throat
- 30ml Elizabeth Arden 2-in-1 Cleanser,
- Red Door Eye Shadow Quad Compact
- Ceramide Lash Extending Treatment Mascara in Black
- Exceptional Lipstick in Starlight


PRETTY HOT PHOTO SHOOT
Spend minimum S$80nett in a single receipt and choose between:

1) Complimentary photo session (inclusive of makeup and hairstyling)
You will re-create the same look as portrayed by the model in the advertorial with the same backdrop. Wig not provided, so too bad if you have dark hair (lol)
2) 1 Pampering 45-min facial

Both are to be made by appointment on a first-come-first served basis.

SPECIAL BUY
Upon purchase of the Brightening Spot Corrector with an additional product from the WGE range, you will receive the Brightening UV Protector SPF50+++(worth S$79)! Note that the Clarifying Foam Cleanser and Gentle Brightening Lotion are not eligible for the promotion. I highly recommend the Brightening Overnight Capsules and the Brightening Pore Refining Gel!

For your reference, I've included the prices of the products from the WGE family:
01) Clarifying Foam Cleanswer - S$57
02) Gentle Brightening Lotion - S$67
03) Skin Brightening Day Essence - S$133
04) Daily Moisture Brightening Cream - S$102
05) Brightening Pore Refining Gel - S$102
06) Brightening Eye Moisture Cream - S$80
07) Brightening UV Protector SPF50PA+++ - S$79
08) Brightening Spot Corrector - S$88
09) Skin Brightening Overnight Capsules - S$132
10) Skin Perfecting Makeup Base SPF20PA++ - S$78
(Purple, Green and Ivory)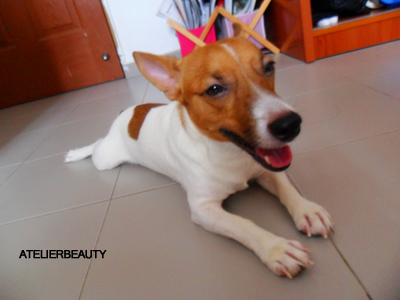 Hello!

I'm currently cramped with loads of writing so here's another moment of glory for Milo to bask in. These photos were taken exactly a week ago and he was in a good mood to pose for the camera that day. Unfortunately I need him today for a close up but the ASSBUTT is sleeping soundly in a fetus position, with his limbs tightly tucked under his chin. Good Life~

Anyway, I was the LA MER counters yesterday(which will be explained in the coming posts) and was speechless when one of the counter staff told me their customers enjoyed reading my blog. Hello Amy and the other ladies stationed at Takashimaya! I felt like some VIP upon identifying myself in the afternoon, everyone seemed excited to see me (lol)

For those who are new to me and my space, this is my furry BFF who is now 1 year and 6 months old! He likes to throw tantrums when I'm too busy to bring him out for walks, and create havoc by marking territories here, there, EVERYWHERE! Fortunately, he hasn't peed in my room so it's still my domain!

Have a wonderful weekend and I'm gonna spend mine concocting with those brain juices, and at the same time munching on those Garett Popcorns! Yesh! I got more yesterday! Nomnomnomnom♪
(My favorite out of the bunch - doesn't he look like a cartoon with those big eyes?)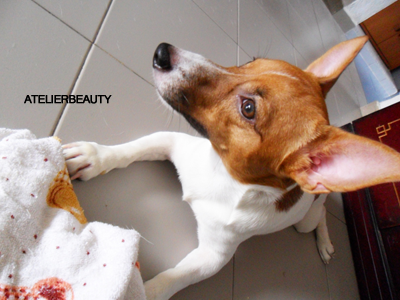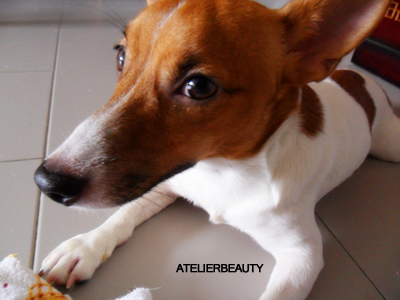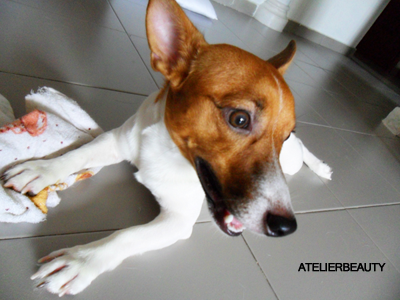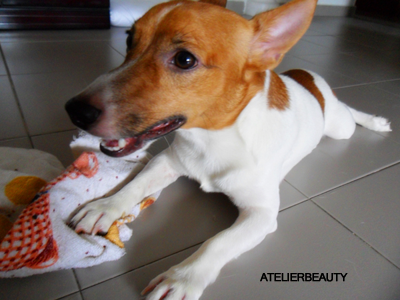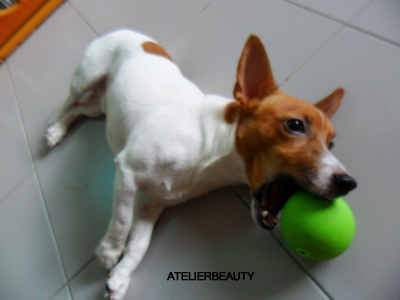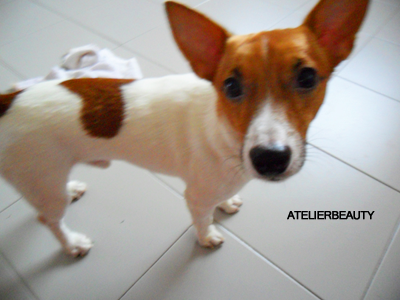 I love consuming Bird's Nest soup. This Chinese delicacy is available readily at supermarkets and restaurants at various prices, depending on the superiority and where they were harvested.

Please do not check up the trees, looking for bird's nests to snitch. God bless those poor birds. This delicacy derives from the saliva of male swiftlets during the breeding, and takes the shape of a sallow cup that are stuck to the walls of caves.

The nutritional benefits are aplenty - they are an excellent source of calcium and protein that improves the quality of regenerated and cells and strengthens our body immune system. Most importantly, frequent consumption nourishes the skin, making it soft, supple and elastic.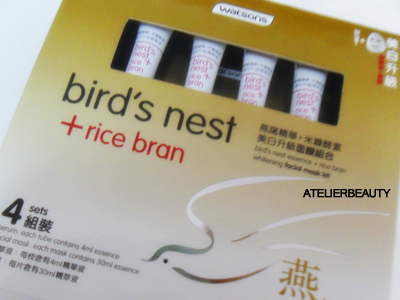 WATSONS Bird's Nest Essence + Rice Bran Whitening Facials
I have been a fan of this particular product but delegated to use in times of skin crisis. During the agonizing PMS period, my skin would get awfully dry - that got me in a hissing fit just yesterday. Imagine having a good diet and skin care routine yet your body choose to betray you every month, as if my face is a getaway resort for hormonal bumps to reside. (TωT)
I have since finished the previous batch which is in an all-white packaging, and slightly bulky. The new ones you see here look absolutely luxurious and contains more punch this time round. No idea if the product's been re-formulated either.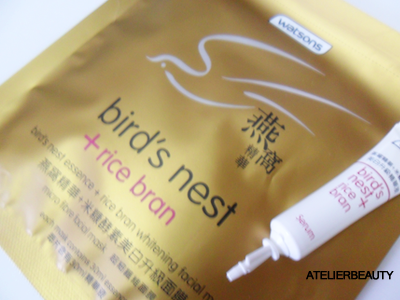 This time round, it comes in a set of 4 facial masks partnered with equal vials of Rice Bran serum. You are instructed to use them together to achieve that whitening boost.

Each vial of Rice Bran serum contains a generous amount of product that can be evenly divided for your face and neck. Take some time to massage it in, before placing the facial sheet over your face. The cloth sheet is made up of 12,000 knitted micro fibres that fits my facial contours very well, with none of that messy dripping all over your clothes.
No thanks to my recent Detox Program that cuts me off from using any whitening products, my skin tone had been looking dull but there is a subtle brightening effect after usage. There is no difference in the fine lines being smoothed out though. Also there was no flakiness of any sort, like what I'd experienced with other brightening masks which is a big plus.

There is no need to add on moisturizer afterwards since the two products hydrate the skin just the way I like it. But if you need a product to lock in the beneficial ingredients, opt for AQUALABEL Skin Enhancer.

I can't remember how much it cost... around S$20? There was a promotion spotted just yesterday that reduced me a mere S$15 poorer. But I'm sorry to announce that it ended on the same day. Anyway, check back with Watsons from time to time since they hold promotions all year round. They also have their in-house Green Tea masks but I'm no fan.

Hi everyone, this post is dedicated to my favorite/most used products for the month of February. I had gotten quite a lot of products lately but due to a breakout, they would have to be set aside for my skin to recover. On the makeup front, things were left simple as usual, with a few occasional smokey, bold looks. Not to mention the brave attempt on going loud .


My skin has gotten better after a facial session earlier last month, and SK-ll Facial Treatment Essence not only helped to clear up my complexion but also balanced my skin's PH levels. I rarely feel the need to blot my face in the afternoon, even the products that normally don't fare well in the sebum-control department seemed to have played nice with my combination skin.

Part of my Detox Program, I use LA ROCHE-POSAY EFFACLAR DUO Corrective and Unclogging Anti-Imperfection Care as my moisturizer rigorously. It is partially hydrating, but enough to prevent CICAPLAST from flaking. The latter is slightly waxy and needs a well-hydrated base for the product to stay onto the skin. I use it mainly the area around my nose, which is awfully dry and red. A month of consistent use, it accelerates skin recovery and I find it easy to apply makeup - powders in particular which no longer cake around my nose.


I have been using CLARINS Extra-Firming Foundation for close to a month, and it was love at first use! Such situations rarely happen, that I must say. I have also recommended many friends to try it at the counters they agreed with the lightweight texture. The consistency is a far cry from BB creams and other foundations I have tried. It felt like second skin and the oil-control properties are up to par with Revlon Colorstay. Although this is formulated for mature skin, it really works well for me, but I don't feel much of that firming effect. I am not ready to give a full review just yet as I'm still going through the trials-and-errors with different setting powders.

The Rouge Hydra Nude Lipstick from CLARINS is another item that I can't go without these days. Nude Coral has a nice tinge of coral that complements all looks, be it smokey or a simple eye makeup. Plus the creamy texture tames down dry flakes, and given its light coverage has surprising good-lasting power! Perfect for me who doesn't like to touch-up.

February has a month of corals, especially in the blush department. The 6 new ones I had gotten in the last 60 days all belong in the same family color but with different characteristics. That I shall explain in another entry. Layering has become an unconscious action, with Rose Gold from SLEEK. The heavy gold undertones enhances any preceding cheek color, though you may look like a tomato if you're not careful. I just don't like to use on its own unless you are going all hot and heavy.... on the dance floor(Gotcha, what were you thinking?) later, I prefer to layer it with another matte blush.

Lastly, we have MAC Blot Powder. Even though I'd mention about the lesser need to blot my face during the day, that doesn't mean I don't reach for the compact at all. After setting my foundation, I went about with colors on my eyes and cheeks. By the time I'm ready to leave the house would be 30-50mins later, give and take with multi-tasking such as feeding the pooch with treats etc. Blotting my face would be the last time I do before putting on my shoes. One application can last a mattifying finish for around 3-4 hours tops. Impressive, eh?


I am currently dealing with a couple of zits, minor buggers after bunching over these delicious popcorns gotten over the weekend. Damn, they smell so good whenever I walk through Citylink Mall. Originating from Chicago, Garrett Popcorns were featured in Oprah Winfrey's "Favorite Things" segment, in which she would share products with her audience that would make a great gift.


Although it's recommended to enjoy these popcorns fresh, but I prefer them a day old. I like mine soft and tender. The one I purchased was in CaramelCrisp flavor. Cashew CaramelCrisp is the same as the former, except that it comes with cashews. The smallest bag will set you back by $8 and lasted me a good 3 days. I can't wait to get me somemore and munch on them over the weekend~.