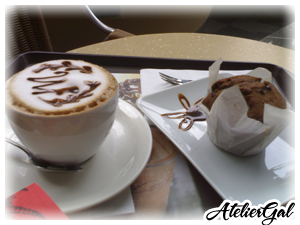 It's been a while since I had lounged at McCafe.
I've never had a pleasant experience there at all, though.
Today's visit didn't change my opinion any better...

Beside my usual order of Chocolate Muffin,
I tried the Mochaccino, a fusion of espresso coffee & chocolate.
There was no element of surprise at all, Mum's black coffee tastes better.

A meddlesome black pigeon kept interrupting me & my novel. (T3T)
It flew onto my table twice, its greedy eyes locked on my muffin, no doubt.

I kept shooing it away, but it just kept circling the ground.
All these time, its hostile eyes locked on me.

After the bird went bothering other customers, more trouble came.
Rain began to pour which nearly destroyed my novel! o(>_<)o

The entire 20 minutes I spent at the outdoor cafe was horrendous!


已经很久没到McCafe坐坐了,从来没有一次的经验是平静的.
今天也不例外...

除了平常点的巧克力松饼之外,我第一次尝试了混合浓咖啡和巧克力的Mochaccino.
味道没什么特别,妈妈泡的黑咖啡比较好喝呢~!

我在阅读小说的时候,一只黑鸽子一直来打扰我啊!! (T3T)
它2次飞到我的桌子上,眼睛一直盯住我的松饼.

我不停地打发它走,它就在地面上绕来绕去.
它那凶凶的眼神锁在我的脸上.

不久后它就去欺负其他的客人,更多的麻烦来了.
开始下大雨了啦,还险些摧毁我的小说呀! o(>_<)o

我呆在户外的咖啡厅的20分钟真的很痛苦啊!!